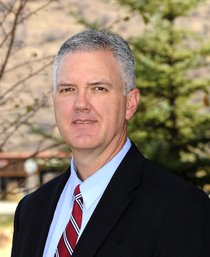 Scott Stanford, 47, has been with the Steamboat Pilot & Today since May 2001, serving as editor, advertising director and director of sales and marketing before being named the newspaper's general manager in October 2010. He previously worked as a reporter and editor for 10 years at newspapers in Texas including the Corpus Christi Caller-Times (2000 to 2001), the San Angelo Standard-Times (1993 to 2000) and the Kingsville Record (1991 to 1992).
Scott grew up in Camden, S.C. He earned an English degree from the Naval Academy and did coursework in journalism at Texas A&M University-Kingsville before starting his newspaper career. Scott and his wife, Kelly, have two daughters, Maggie and Libby. When he is not at the newspaper, Scott enjoys hanging out with his kids, playing basketball and golf and listening to country music.

Recent Stories
Meg Boyer, the Steamboat Pilot & Today's director of advertising, has been named the new vice president of sales and marketing for the Idaho Statesman in Boise, Idaho. Her last day is June 3. Pilot & Today Editor Brent Boyer, Meg's husband, will join her in Boise. His last day is June 20.
A power outage at the Steamboat Pilot & Today office early Wednesday morning delayed production and delivery of Wednesday's Steamboat Today newspaper.

Tim Bishop has announced his resignation as principal of Steamboat Springs Middle School effective June 30. Steamboat Superintendent Brad Meeks said the district would begin working next week to identify Bishop's replacement.
We're one of more than a dozen newspapers and media outlets publishing the "Losing Ground" series, an in-depth reporting project by Denver-based I-News Network.
It has been 11 months since Steamboat Today stopped allowing anonymous comments on SteamboatToday.com. My overall impression is the policy has been a major success. Initially, I was a skeptic.
A dozen years since moving publication of the Steamboat Pilot from Wednesdays to Sundays, new and exciting changes are in store for the Pilot & Today.
The reader survey is one of many tools we use to make newspaper decisions. This year, 678 Routt County residents ages 18 or older completed it.

On Wednesday, we kick off our 2012 survey, which will run for two weeks. We're hoping for 1,500 responses before the survey ends Aug. 31.

We have been trying to run an advertisement for nearly a week thanking the sponsors and contributors to the Community Barn Dance and Barbecue at Sidney Peak Ranch. We have run the ad three times. Each time, the ad contained an error.
You'll notice a few changes to Saturday's newspaper, and I wanted to explain them. First, we're bringing Share Steamboat Today back to the paper Mondays through Saturdays. You can find this feature on page 19 of Saturday's newspaper.