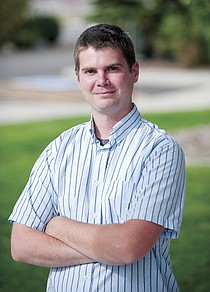 Scott Franz is a reporter and photographer for the Steamboat Pilot & Today. He earned his bachelor's degree in journalism from the University of Colorado at Boulder. He interned as a reporter at the Boulder Daily Camera and as a photographer at Rich Clarkson and Associates in Denver.
Scott grew up in Austin, Texas, and plans to enjoy all of the outdoor activities Steamboat has to offer … and all of the days that don't reach 100 degrees.
Recent Stories
The number of fatal and injury accidents was down 35 percent, while the number of weather-related crashes fell 46 percent, according to the data.

City crews on Tuesday installed the new signs at the intersections of Whistler and Walton Creek roads and the eastbound U.S. 40 exit ramp and Mount Werner Road.

At the height of firefighting efforts, 35 firefighters from the U.S. Forest Service and the North Routt Fire Protection District were battling the wildfire.

When the Steamboat Springs City Council sits down July 7 to decide how it should fund millions of dollars worth of proposed downtown infrastructure improvements, it will have several options to choose from.

On May 12, Robert Shearon was in Steamboat Springs talking to students about overcoming addictions to drugs and alcohol. Today, he is getting close to completing his goal of driving his 49 cc Honda Ruckus scooter 4,600 miles from Colorado to Anchorage, Alaska.

Steamboat's Senior Vice President of Sales and Marketing Rob Perlman has been promoted to president and chief operating officer of Steamboat Ski & Resort Corp. effective July 1.

A statewide study from Dean Runyan Associates claims overnight visitors to Routt County spent $342 million on their lodging, food and other travel-related items last year.

Connell, who refers to herself as "chatty Kathy" and a regular "Joette," clearly has enjoyed her time on the commission and feels she has been an effective representative of Northwest Colorado.

Yampa Valley Medical Center's biggest expansion project in years is poised to benefit many of the hospital's patients and the doctors who treat them.

The committee that is helping the city of Steamboat Springs build a new police station knows it probably won't be a cake walk to construct a building in west Steamboat that would be shared by the Steamboat Springs Police Department and the Routt County Sheriff's Office.