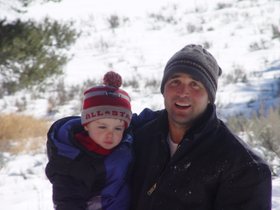 James Winfried Brooks
September 7, 1969 - February 14, 2011
James Winfried Brooks was born in Detroit, Mich., to Samuel Carroll Brooks and Elfriede Wesel Brooks, on Sept. 7, 1969. He grew up in West Bloomfield, Mich., attended Andover High School and graduated in 1988. He then went onto Colorado State University in Fort Collins, where he graduated in 1992 and received a bachelor's degree in business management. 
After graduation, he moved to Steamboat Springs for a new adventure without knowing a soul, and left with a rich circle of friends that he valued and cherished.  
He worked at the front desk at the Snowflower condominiums and fully immersed himself in the Steamboat way of life, kayaking, hiking, mountain biking, telemarking, camping and rock climbing.
During that time, he also initiated his company, Solar Alternative.
James' interests grew in building and he met key mentors including Ron Mangus, Ken Cruz and Mark Halverson. He apprenticed and became a skilled carpenter.  
A noteworthy accomplishment included a 350-acre equestrian center, Hideaway Ranch, with four structures: a home, stable, barn and arena with utilities, on Lynx Pass. 
James developed his own business, Brooks Construction, LLC, through which he built his own home, his parents' retirement home and Tom Lyons' residence on Stagecoach Mountain. 
James will be remembered by his many friends and family for his passion for life, kindness, generosity, beautiful smile and as a loving and devoted son, brother and father. 
He is survived by his parents, Samuel Carrroll Brooks and Elfriede Wesel Brooks, in Stagecoach; his sister, Dr. Kathryn Robertson, in Fishers Ind.; his brother, Dr. Carroll Brooks, in Seoul, South Korea; and his wife, Kimberly Brooks, and sons, Phillip James and Jacob Todd, in Stagecoach.