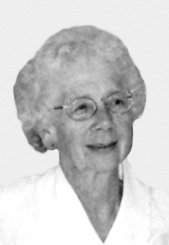 Elizabeth Marie Pedersen
October 23, 1925 - July 11, 2009
Former South Routt County resident Elizabeth "Liz" Marie Pedersen passed away July 11, 2009, of complications from Alzheimer's at Family Health West in Fruita. She was 83.
Liz was born Oct. 23, 1925, in Johnson, Neb., to Tom and Minnie (Collman) Harpham at her maternal grandparents' home. Liz spent her early years in Stratton and then moved to Akron with her younger sister, Kathryn, and her parents. Liz started seventh grade in Akron and graduated from Akron High School in 1943.
She was further educated at Barnes Business School in Denver. Throughout those years, Liz worked at the Harpham Drug Store where her father was the pharmacist. After business school, she worked at the Akron Welfare Office. She enjoyed her many friends and loved people. Liz became a member of the Akron Methodist Church. Liz studied piano and learned to play the organ, which she played at church on Sundays.
Liz and friends went to dances in Brush where she met Ray Pedersen. Liz and Ray were married June 30, 1946, and then farmed for six years south of Brush. In February 1952, they moved to their ranch in South Routt County near Oak Creek (the ranch later became Stagecoach Reservoir). There, Liz devoted her time to raising four children and various dogs, cats and chickens. Liz spent many hours in the kitchen and loved to bake. Her specialties were breads, cakes and pies. She also enjoyed traveling and family gatherings.
Ray's retirement as a Colorado Brand Inspector in 1991 brought them to the Grand Valley and a small farm near Fruita. Ray became ill and passed away in 1993. Liz then moved to a smaller home in residential Fruita in 1996.
Liz was preceded in death by her husband, Ray; her parents; and her sister Kathryn.
She is survived by her children Nancy (Chuck Mitisek), of Grand Junction, Tom and (Jean) Pedersen, of Stevensville, Mont., John and (Janet) Pedersen, of Lorna, and Bill and (Joyce) Pedersen, of Fruita; eight grandchildren; two step-grandchildren; three step-great-grandchildren; and six great-grandchildren.
Cremation has taken place, and a private family service will be held at a later date. Memorial contributions may be made to Family Health West Alzheimer's Unit, 228 North Cherry, Fruita, CO 81521. Arrangements are under the direction of Callahan-Edfast Mortuary.