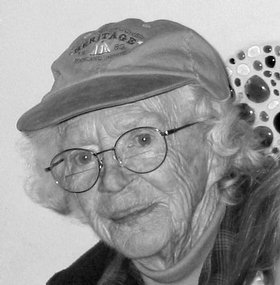 Pamela Katherine Finney McPherson
December 7, 1923 - March 17, 2009
Pamela Katherine Finney McPherson, also known as Mrs. Mac and simply as Granny, died in Carbondale on March 17, 2009, as the result of a tragic car accident.
Pam was born to Dr. Theodora and Dr. William Finney on Dec. 7, 1923, in Rochester, Minn., as the fourth of six children. She grew up in Winnetka, Ill., and Lake Geneva, Wis., and attended the North Shore Country Day School in Winnetka. She then attended Scripps College in Pasadena, Calif., for a year before moving to the East Coast, where she attended nursing school with the thought of becoming a nurse for the war effort.
In 1947, Pam returned to Lake Geneva, where she worked and developed a passion for puzzle-making, skiing and the West. During this period, Pam built her own home, started making puzzles and gardened. She was active in her church, as well as a Girl Scout leader and a member of the National Ski Patrol at Majestic Hills in Lake Geneva.
Pam developed ovarian cancer in 1962 and even after treatment, she was told she would have five years to live. She decided to follow her daughter to Colorado and spend these last years skiing in the West. She initially moved to Aspen in 1962 and then spent a while in Glenwood Springs running the Eat-a-Bite Cafe, before moving back to Aspen in 1963. In Aspen, she purchased and ran the Snow Chase Lodge on top of Mill Street for 15 years. The lodge catered to ski bums and usually was full of skiers that would stay for at least one, if not several, seasons. Pam often said it was the best spot in town because people could ski down to the lifts in the morning and right to the back door in the afternoon.
In 1978, Pam retired to Carbondale, where she spent the summers gardening and the winters making puzzles. She delighted in sharing her puzzles and her garden produce with family and friends. She loved to travel throughout the desert West and especially was fond of taking river trips on the Green and Colorado rivers. She was a strident lover of wildlife and traveled to Alaska, Ecuador, the Galapagos Islands and the Antarctic to see the incredible wildlife in these areas.
Pam doted on her daughter, grandchildren, great-grandchildren and very large extended family and welcomed travelers and visitors from all across the world to her kitchen table where she served scrumptious meals from her garden and would regale guests with entertaining stories. She often hosted ski racers from Steamboat Springs and other areas and was thrilled when old friends would drop by for a visit.
Pam is survived by her daughter, Esther DelliQuadri; grandchildren Terry DelliQuadri and wife Urte, Winnie DelliQuadri, and Tracy DelliQuadri; and six great-grandchildren, all of Steamboat Springs. Other survivors include a brother, Sam Finney, of Necedah, Wis.; and numerous nephews, nieces, grand-nephews and grand-nieces across the country.
In lieu of flowers, the family suggests that memorials be made to the following organizations in her name: The Steamboat Springs Winter Sports Club, P.O. Box 774487 Steamboat Springs, CO 80477; The Nature Conservancy, 4245 North Fairfax Drive, Suite 100, Arlington, VA 2203-1606; and The Colorado Special Olympics, 410 17th St., Suite 200, Denver, CO 80202.
A celebration of life is at 1 p.m. June 27, 2009, at her former home, 12665 Highway 82 in Carbondale. Shuttle services will be provided from a Carbondale location. Details will be posted closer to the date of the event at www.flickr.com/groups/granny. Information also is available by e-mail at estherdq@earthlink.net or by calling 970-879-1346.