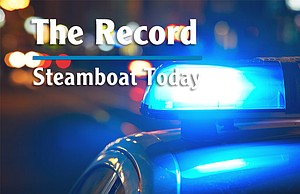 Crime Stoppers
If you have information about any unsolved crime, call Routt County Crime Stoppers at 970-870-6226. You will remain anonymous and could earn a cash reward. Tips can be submitted online by clicking
here.
Tips can also be sent by text message. Send a text message to 274637 and start your text with "NABM".
Wednesday, April 19, 2017
8:28 a.m. Steamboat Springs Police Department officers were called to a report of identity theft in the 1100 block of 13th Street. Someone had a computer stolen, and someone used it to open accounts.
10:51 a.m. A person came to the police department with information about possible drug activity in Steamboat.
11:37 a.m. Steamboat Springs Fire Rescue firefighters were called to help with a gas leak in the 600 block of Yampa Street. A construction worker hit a gas line.
1:12 p.m. Officers were called to a report of former students who were not supposed to be on the Steamboat Springs High School campus. A trespass warning was issued.
2:41 p.m. Officers were called to a report of theft in the first block of Anglers Drive. Two friends were having a disagreement about a sweatshirt and a video game.
4:46 p.m. Routt County Sheriff's Office deputies were called to a report of an unattended death in the 29500 block of Elk View Drive. A homeowner went to check on a man living in the caretaker unit and discovered he was dead. There was nothing suspicious about the death, and toxicology tests will help determine a cause of death.
11:19 p.m. Officers were called to check on a suspicious vehicle in the 3000 block of Laurel Lane. It was believed a bear had been around the car.