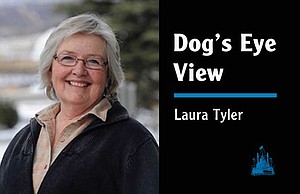 One of the most challenging aspects when training our family dog is — yes, you guessed it — walking nicely on leash. We have an expectation that. once we say, "Heel" or "Let's go," the dog should automatically respond for the duration of the leash walk. Then, it turns into the yank and jerk walk. The dog yanks, and the human becomes the jerk on the end of the leash. No insult intended here, but the old days of "leash corrections" turned into a lifetime of jerking the dog at the drop of a hat in hopes that training would take place.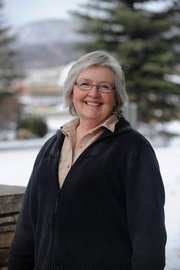 Dog's Eye View
This weekly column about dog training publishes on Fridays in the Steamboat Today. Read more columns here.
The old style of a formal heel exercise was built upon military training for perimeter control. The military K9 team was tasked with making sure all was well and kept the base or detachment safe. Heel position was on the left side of the handler, so the rifle could be shouldered on the right. This dog's job was specific and consistent; the K9 knew as soon as the soldier got the equipment out that he was on the job.
As dog sports were developed, the American Kennel Club adopted the military style into obedience competitions. I got my start as a dog trainer, more than 30 years ago, by participating in this style of competition. It was fun and entertaining to watch. I was taught to use leash corrections. It was the only thing I was exposed to at the time, so I willingly participated, and it was effective for the ring work.

Interestingly, in an obedience competition, with many dogs and handlers present, there was rarely a conflict between dogs. That focused attention to and from the ring was required and practiced consistently. If you think about it, these dogs had a job, too. It was based on working as a team and perfecting skills on a continual basis. It took consistent time and practice to keep those skills sharp and ever improving. Even in the face of leash corrections, the dogs learned to respond to avoid the jerk. By the way, I have always wished I could have those dogs back to teach the way I do now. Live and learn and become a better trainer through education.
Now, we have new and better ways of training. Leash corrections are a thing of the past, but the foundation is the same. Dependable, reliable performance requires consistent practice. Our human expectation has not changed. What has changed is our reliable effort to keep our trainer skills sharp and keep the conversation going.
Walking down a busy sidewalk in a city setting starts at home. We must teach the skills to perfection in a non-distracting environment before we test them in town. That skill requires slow and steady building into distracting environments.
I often hear the statement, "I tried that, and it didn't work." As we get into the conversation a bit more, it turns out that the training session lasted a week or a month or off and on. So, I ask, "How long did it take you to learn to ride a bike well? How long did it take you to learn to play tennis and win? How long did it take you to learn to ski? If you were taking instruction, how much feedback or coaching did you receive?"

Our training relationship with our K9 buddy needs to be nurtured and requires consistent coaching time and frequent maintenance. We must keep the conversation lively, interesting and rewarding.
When does the conversation start? As soon as the idea enters your head. "Sit" means please. A calm dog sitting gets the harness or leash attached. A calm dog waiting at the door allows the door to be opened. Don't let your leash do the talking. Train that dog. Sitting gets the leash attached. Waiting at the door gets the door opened. Responding or offering the correct behavior is rewarded with praise, walks and occasional snacks.
Use sporadic stop-to-sniff time to reward your dog for walking nicely on leash. Before you start again, get the conversation going by practicing a trick or circling into heel position. A good conversation can turn into a great walk.
Laura Tyler is a certified professional dog trainer with more than 25 years of experience. She has earned associate certification through the International Association of Animal Behavior Consultants, as well as Certified Nose Work Instructor through the National Association of Canine Scent Work. She owns Total Teamwork Training LLC in Northwest Colorado.