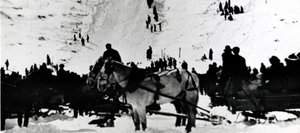 Thursday, November 22, 2012
Two of the town's strongest ties to snowsports are celebrating special anniversaries this season, with Steamboat Ski Area turning 50 and Winter Carnival turning a whopping 100.
Blowing out five decades
of candles with more than
$30 million in recent on-mountain enhancements, Steamboat has grown substantially from its grass-roots beginnings in 1963, when founder John Fetcher drove to California to pick up the bullwheels for the original Bear Claw double chair. Today, its 18 lifts serve 2,965 acres blanketed with 347 inches of annual average snowfall in the past decade.
As part of the festivities, the resort is planning a golden 50th anniversary celebration Jan. 11 to 21, including a special birthday celebration concert and fireworks Jan. 12. It also is planning a series of Bud Light Rocks the Boat concerts March 9, 16, 23, 30, and April 6 and 14. Combine this with a special celebration for Billy Kidd's 70th birthday April 13 and you have a season to remember.
"There's definitely a lot going on this year to help us celebrate," Steamboat spokesman Mike Lane says. "We've come a long way in 50 years."
Coming even further along is Steamboat's annual Winter Carnival. The 2013 season will see the 100th anniversary of the carnival (Feb. 6 to 10), which has been operated by the Steamboat Springs Winter Sports Club every year since 1914, making it the oldest continuous winter carnival west of the Mississippi.
The annual celebration includes a variety of events that embrace Steamboat's Western and winter sport heritage, including ski jumping competitions, a diamond-hitch parade, fireworks, skijoring street events, the Lighted Man and the world's only high school marching band on skis. It's been rated one of the top 10 winter carnivals in the world by National Geographic and has appeared on Good Morning America.
The carnival's host — Winter Sports Club, which has ties to more than 88 Olympians — also celebrates its 100th anniversary in 2013, further cementing Steamboat's snow sports heritage. "It's a big year for anything related to snow sports in Steamboat," Winter Sports Club Executive Director Rick DeVos says. "It should be a great year to visit Ski Town USA."