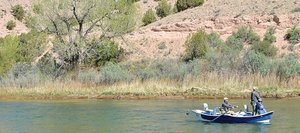 Tom Ross
Tom Ross' column appears Tuesdays and Saturdays in Steamboat Today. Contact him at 970-871-4205 or tross@SteamboatToday.com.
Find more columns by Tom here.
Sometimes your best move is to just jump in the car and go. There's no need to over-think your next outdoor adventure, especially if you're headed out to pack as much exploring as you can into a 34-hour trip.
That's how we approached our weekend trip to Browns Park and beyond to Indian Crossing on the Green River. We didn't really resolve to hit the road until 10 a.m. Saturday and hastily threw together food and camping gear. Of course, it helps if your spouse is far more organized than you are. We keep two large Rubbermaid tubs packed with all the kitchen and camp gear we need in the garage for quick getaways. Give it a try.
To keep things streamlined, we never pitched a tent. And we paid just $2.50 (with a seniors discount!) for a gorgeous camp site right on the river. And in spite of arriving at Indian Crossing near dinner time and lazing around camp for a while Sunday morning, we managed four mini-adventures, visited three cultural sites and had a meaningful wildlife encounter.
I could have easily added an hour of low-key angling on the Green if I'd planned ahead and purchased a Utah fishing license online Friday. And we passed up on the best cultural site, the historic John Jarvie Ranch, only because we've visited it multiple times in the past.
The weather was disappointing when we first arrived, with leaden skies and gusting wind. The only cure was to jump on our old mountain bikes and ride up Taylor Flat to the Diamond Breaks wildlife conservation area. The hard exercise recharged our attitudes and we went back to camp to grill pre-cooked pork ribs.
After dinner, we made a decision that could change the way we camp in the future. The wind was blowing so hard we could imagine that our tent would flap noisily all night and make us restless.
So instead, we unfurled our sleeping bags in the back of the 4Runner and used pillows and luggage to make a back rest. Equipped with a variety of rechargeable reading lamps, we could have read comfortably all night, but after watching the full moon rise, we conked out early and slept soundly.
Going forward, we'll pitch the big tent and unfold the heavy cots anytime we spend two or three nights in one campground. But for quick one-night dashes into the high lonesome, we may stick with the simplicity of sleeping in our mini RV.
Sunday morning dawned clear and calm and we set off over a four-wheel-drive road to explore Red Creek, which flows through a narrow canyon strewn with giant boulders. Red Creek still was carrying abundant snowmelt from the distant Uintah Mountains this week, leading to a great deal of boulder hopping.
Later in the day, we visited the grave of Browns Park pioneer Sam Bassett, who died in 1910 and was the uncle of the famous cattlewoman Queen Ann Bassett. She was the first European baby born in the Park but is better known for having "socialized" with the outlaw Butch Cassidy.
Driving along the river, we spied an osprey sitting on a huge twiggy nest and watched as its mate circled with a rodent in its talons. We were clearly disturbing them, so we hustled away to drive over the famous Swinging Bridge in the Browns Park National Wildlife Refuge. The bridge doesn't swing as much as it bounces. It's a little creepy.
Finally, on the road home we made a side trip through Irish Canyon, named for the participants in a 19th century robbery in Rock Springs, Wyo.
We were back in Steamboat in time to watch the sun set and clean up some of our gear before retiring for the night — in the house this time.