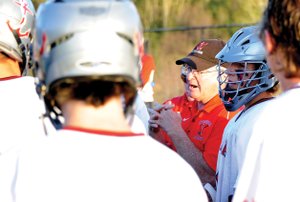 Originally published May 6, 2012 at 07:24p.m., updated May 7, 2012 at 02:27p.m.
2012 CHSAA boys lacrosse playoffs, Round 2
1 Arapahoe vs.18 Heritage
2 Cherry Creek vs. 17 Air Force
3 Kent Denver vs. 14 Steamboat
4 Columbine vs. 13 Mountain Vista
5 Mullen vs. 12 Wheat Ridge
6 Regis Jesuit 11 Cherokee Trail
7 Rock Canyon 10 Fort Collins
8 Monarch vs. 9 Castle View
2012 Sailors boys lacrosse schedule
March 9: Steamboat 13, Telluride 1
March 13: Rock Canyon 10, Steamboat 9
March 16: Steamboat 19, Durango 1
March 17: Steamboat 18, Glenwood Springs 1
March 23: Steamboat 9, Air Academy 8
March 24: Steamboat 18, Eagle Valley 2
March 27: Steamboat 13, Summit 1
March 30: Steamboat 9, Grand Junction 4
March 31: Steamboat 12, Fruita Monument 4
April 2: Steamboat 13, Thompson Valley 1
April 6: Steamboat 8, Battle Mountain 5
April 7: Steamboat 14, Grandview 9
April 12: Steamboat 16, Aspen 3
April 14: Steamboat 12, Valor Christian 4
April 30: Steamboat 8, Golden 5
May 5: Steamboat 9, Denver East 4
May 9: Kent Denver 17, Steamboat 3
Steamboat Springs — Editor's note: The second-round playoff game against Kent Denver has been moved from Wednesday to Tuesday.
Scores from Saturday night lacrosse action helped answer some of the questions that lingered after the Steamboat Springs High School boys team's exciting 9-4 win against Denver East.
That victory was the first in the playoffs in program history. If the Sailors are to make it 2-0 this postseason, they'll have their work cut out for them. Steamboat plays on the road against Kent Denver on Tuesday.
Kent Denver is 12-2 on the season and received the third seed in the tournament. Steamboat enters 15-1 and the No. 14 seed.
"We don't know a lot yet, just that they're a really good lacrosse team," Steamboat coach Bob Hiester said. "They're ranked up there and when you're in that top rung of the state, you're well coached with good athletes."
The teams share just two common opponents. Kent Denver beat Valor Christian, 15-5, and Denver East, 12-2. Steamboat beat Valor, 12-4, and East, 9-4.
Hiester said he'll tap his sources to learn as much as he can in the next day, but he doesn't plan on getting carried away worrying about what Kent Denver does and doesn't do.
"We're a good lacrosse team, and our guys don't panic," he said. "Our whole approach has to be that we'll go play our game no matter who we play. We're really looking forward to it."
The game starts at 5:30 p.m. Tuesday. It initially was scheduled for Wednesday but was moved up a day.