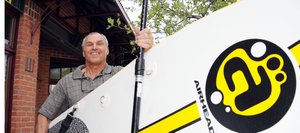 Photo Gallery
2012 outdoors gear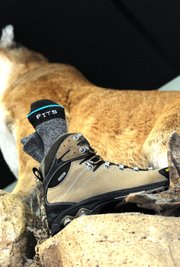 Steamboat Springs — Not everything is easier, and not everything is more fun.
All the products in the newest wave of summer supplies now holding down the shelves of local outdoors stores manage to fall into at least one of the categories, however.
A new pair of warm waders or some comfortable hiking boots can make life easier for the Steamboat outdoors savant. A stand-up paddleboard, meanwhile, that has the potential to make life a lot more fun.
Either way, the equipment makes for quite the temptress for blue-sky loving athletes.
Fun on the water
As any of the framed certificates hanging from the wall or any five-minute conversation will tell a customer, One Stop Ski Shop's John Kole is a ski boot kind of guy, taking great pride in being able to find the right fit for every foot.
But with summer beating down toward the Yampa Valley, even Kole's mind drifts to water, and it was with that in mind that he set out to stock the inflatable Airhead Na Pali board for $899.
"We were looking into carrying them last year, but they were a little out of our price range. Then a company I deal with started making them, so we decided to give it a try," Kole said.
Stand-up paddleboards are all the rage, in a few quick years going from a Charlie's Hole oddity to the latest gotta-do-it sport. Kole said the Airhead Na Pali inflates in 10 minutes and easily is transportable in a backpack.
"It's the hip thing right now," Kole said. "It's portable, useable and fun."
Also fun for the water-loving demographic is the Sage One fly rod, built with the company's Konnetic technology. The rod is like a new road bike, Straightline Sports' Tyler Anderson explained: lighter, faster and simply better than last year's model.
"The Konnetic is an upgrade in the graphite of the rod. The've eliminated the resin and put more graphite in, thus making it lighter," Anderson said. "With fly rods, it's about performance. It's crucial to generate this line speed."
The rod is available at Straightline for $725.
"It's one of a kind," he said. "No other companies are currently pursuing this with a model on the market."
Warm and cozy
The newest toys of 2012 aren't all about having fun. Plenty of the gear is about being comfortable.
Jonah Drescher, at Steamboat Flyfisher, was quick to point to the Simms G4 Guide Stockingfoot, a pair of waders "perfect for everywhere from Alaska to Colorado," Drescher said.
The waders pack five layers of Gore Tex fabric and are made to stay dry.
"The zipper is only used on spacesuits and flight suits," Drescher explained. "That's how technical that zipper is. It doesn't leak, to put it bluntly."
The waders are available at Steamboat Flyfisher for $699. Drescher recommended pairing them with the Simms Rivertek Boa boots, $169, which are made to have grip-enhancing screws dug into the soles.
"They have the rubber soling so we don't transfer microorganisms from river to river," he said. "Plus, it incorporates Steamboat technology, local technology, with the Boa system."
When it comes to comfort, though, Straightline's Bruce Lee said he recently stumbled upon a can't-miss solution.
Aware it's almost a sacrilegious act in Steamboat Springs, he offered Fits socks for locals' hiking needs.
"They're the most comfortable I've ever tried on," Lee said about the merino wool socks. "People don't come in looking for these. They come in looking for SmartWool, but when they try these, I've had a ton of those people come back and want more."
He opted to pair them with the Asolo Bullet GTX hiking boots, for $260.
"They're lightweight, all-weather and people love them," Lee said. "They're comfortable."
In 2012, that's what it's all about.
To reach Joel Reichenberger, call 970-871-4253 or email jreichenberger@SteamboatToday.com