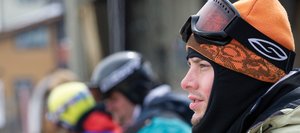 Past Event
Saturday, March 10, 2012, 3 p.m.
Gondola Square , 2305 Mount Werner Circle, Steamboat Springs
All ages / Free
Steamboat Springs — Steamboat skiers and riders are bracing for the big change this weekend as the Yampa Valley plunges into the heart of spring break and the clocks in their cellphones jump ahead an hour to deliver another hour of daylight for après ski revelry.
Steamboat Ski and Resort Corp. is doing its part, hosting Band of Heathens at 3 p.m. Saturday in a free Bud Light Rocks the Boat concert on the Steamboat Stage in Gondola Square.
It might feel like winter just got down to business on Valentine's Day, but already, the season is changing. With the change comes one of the busiest weeks of the year for tourism.
The lodging barometer released by the Steamboat Springs Chamber Resort Association on Wednesday anticipates more than 11,700 people will push the lodging community beyond 80 percent capacity Saturday night. Steamboat saw 1,200 late arrivals last weekend when overnight visitation reached 11,600 people. A similar trend this weekend could push tourism to nearly 13,000 people.
Many of the resort's weekend guests will stay through Wednesday, when 11,300 guests will be sampling the spring snow.
As of Wednesday afternoon, the National Weather Service in Grand Junction still was calling for a 20 percent chance of snow overnight followed by nothing but sunshine through Sunday, when the first day of daylight saving time could greet skiers and snowboarders with an afternoon high of 52 degrees.
Despite mild daytime temperatures in the coming week, overnight lows are expected to be in the teens and low 20s, suggesting the skiing will improve daily as the sun softens the surface.
The ski area closes April 15 this year. Skiers who want to make the most of the last nine days of the ski season can visit www.steamboat.com to purchase the $99 Springalicious pass, which gives purchasers four days of skiing on the dates of their choice from April 7 to 15, which includes the final two weekends of the season.
To reach Tom Ross, call 970-871-4205 or email tross@SteamboatToday.com