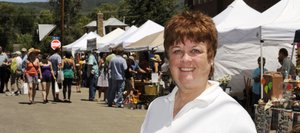 Are You a Local? Quiz
Take Steamboat Living's simple quiz to help determine whether you're a cheechako or a sourdough when it comes to your tenure in Steamboat. 1. White out is used to: A. turn legs into jelly B. correct mistakes on a term paper C. warm up your legs on the first run D. A and C 2. Three current postal clerks' names are: A. Don, Tom and Ron B. Fred, Hank and Harriet C. Julie, John and Norbert 3. Locals used to gather atop Thunderhead in the early morning for: A. advice from Billy Kidd B. free coffee/mimosas C. rope drop 4. I try this ski parking sequence, in order: A. tiny lot below Knoll Lot, Ski Time Square, Knoll Lot, Meadows Lot B. Meadows Lot, Knoll Lot, Ski Time Square C. rodeo grounds, City Market, Wildhorse Meadows 5. Drink out of the Lithium Spring and you may get: A. the trots B. a euphoric feeling C. a ticket D. algae in your teeth 6. The original name of the Yampa River was: A. Bear River B. Steamboat River C. Anything Town USA River D. Billy Kidd Brook 7. The original hospital in town now is: A. a medical marijuana dispensary B. Old Town Pub C. Old Town Hot Springs D. a tattoo parlor 8. The following people attended Perry-Mansfield: A. Dustin Hoffman, Julie Harris and Lee Remick B. Justin Bieber and Justin Timberlake C. Marilyn Monroe 9. Touch the Buddy Werner statue atop Mount Werner and you'll get: A. arrested B. good luck C. cold fingers 10. The following Broadway musical resulted from Agnes de Mille square dancing in a schoolhouse in Hayden: A. "Grease" B. "Oklahoma" C. "West Side Story" 11. The word "Yampa" comes from: A. a flowering, edible root that grows along the river B. the founder of town, Herbert B. Yampa C. an Indian greeting 12. The real name of today's Lighted Man is: A. Tom Hanks B. Jon Banks C. Claudius Banks 13. The name of our local mountain range is:A. Park B. Elk C. Zirkels D. Never Summer 14. These bands played at the Inferno: A. Dave Matthews, Clarence Gatemouth Brown and Sonia Dada B. Lynyrd Skynyrd, Taj Mahal and the Suburbs C. Grateful Dead, Jethro Tull and Charlie Daniels 15. The original name of Steamboat Ski Area was: A. Billy Kiddville B. Storm Mountain C. Grouse Creek D. Wally World 16. The old Routt County license plates started with: A. ZY B. YK C. WZ 17. Lincoln Avenue is so wide because: A. it was designed to fit Hummers and Lincoln Navigators B. it was used to drive cattle to stockyards C. high school tuba players needed more room at Winter Carnival 18. The train depot once was one of the largest: A. cattle shipping centers in the West B. facilities to host Cabaret C. coal-transfer stations in Colorado How did you score? 5 points for each correct answer (90 total) 80 to 90: veritable John Crawford 70 to 79: Billy Kidd 60 to 69: five-year ski bum 50 to 59: came for the winter, stayed for the summer Below 50: just visiting

Whether picking up tire-flattened soda cans and other trash from Lincoln Avenue or waking up with a start at 3 a.m. with an idea to improve the downtown business district, Tracy Barnett can't shake free from her devotion to Mainstreet Steamboat Springs.

"I love Steamboat, and having been a business person downtown, I've always just wanted to make things better," says Tracy, a small-town Minnesota girl who now has called Steamboat home for nearly 40 years.

She first arrived in the Yampa Valley in 1975, a fitting destination for someone who grew up loving all things Western — horses and history in particular. Fate brought her and longtime husband, Cooper, together when Tracy's parents bought a California home from Cooper's parents during her senior year of high school. Cooper was a student at Yampa Valley College — now Colorado Mountain College's Alpine Campus — at the time.

The young couple later was living in a tent and taking care of a Lake Tahoe campground when the two packed up their car and made the permanent move to Steamboat. Tracy got a job at the front desk at the Steamboat Springs Chamber Resort Association, and Cooper returned to his former job at the old Sidestep restaurant. Tracy soon found herself working in the food service industry, as well, and when the opportunity presented itself in 1985, the Barnetts bought Mazzola's Majestic Italian Diner from previous owner Curt Weiss.

They owned the Lincoln Avenue eatery for nearly 20 years before a health issue took Cooper away from the business and got Tracy thinking about her next move. It was at that time in the early 2000s that Tracy and several other business-minded folks helped to organize a local chapter of the Main Street movement that seeks to revitalize, preserve and grow downtown business districts in cities and towns across the nation. Before long, the Barnetts had sold Mazzola's, and Tracy was hired as Mainstreet's first manager.

For almost a decade now, Tracy has made it her mission to improve downtown Steamboat's historic shopping and dining district. Hardly a day passes when she doesn't spend time walking Lincoln Avenue and stopping to talk with business owners and shoppers. She's been the driving force behind the successful summertime Mainstreet Farmers Market, and she's always looking to tackle the next big challenge. At the top of her list: Yampa Street.

"It has to be the way we go next," Tracy says. "But it has so many challenges to improve it while maintaining its funkiness."

The Barnetts' two adult children, Brady Worster and Casey Barnett, call Steamboat home, as well, and often can be found alongside their mom helping at the Farmers Market and other Mainstreet events.

Tracy's dedication to a clean, safe and visitor-friendly downtown first kicked into high gear when she owned Mazzola's and would walk Lincoln Avenue at 4 a.m. to pick up trash in front of businesses. Her "Auntie Litter" nickname still holds true as does her grab-the-bull-by-the-horns approach to work.

"If you don't do anything, nothing gets done," she says. "And it takes passion. If you want to get something done, find someone who's passionate about it and let them run with it."

The downtown Steamboat Springs business community might not know how lucky it is to have found Tracy — or that she found it.