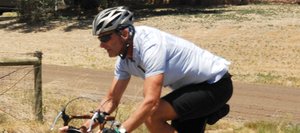 Remaining route for Bicycle Tour of Colorado
■ Wednesday: Craig to Steamboat Springs — 44 miles
■ Friday: Steamboat Springs to Walden — 60 miles
■ Saturday: Walden to Fort Collins* — 99 miles
*Saturday's route will be adjusted to Laramie, Wyo., if roads are closed because of wildfires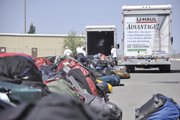 Craig — More than 1,200 riders made the trek Tuesday to Craig as part of the 18th annual Bicycle Tour of Colorado.
The tour takes a different route through Colorado each year.
This year, it's a weeklong, 462-mile ride through northern Colorado and southern Wyoming that traverses the Rocky Mountains.
The tour continues Wednesday with a ride to Steamboat Springs.
The route into Craig was 111 miles from Saratoga, Wyo., the longest leg of the week. Riders were able to rest and camp out at Moffat County High School, either on the practice fields or inside the school's gymnasium.
The tour attracts riders from a variety of backgrounds and for many reasons.
Joe Allis, of Galeton, Penn., is riding his third Bicycle Tour of Colorado. He said he enjoys the opportunity to see things he hasn't before.
"I just love to ride, and I hadn't rode up (in Wyoming) before," he said. "It was nice to see some new scenery."
Allis said the ride has gone well so far, but the wind has been extremely tough.
His wife, Barbara, is driving along the route with her husband. She said she enjoyed the Museum of Northwest Colorado's Norman Rockwell exhibit while staying in town.
"We've been to Craig before, and we like the museum; this time, they had all of Norman Rockwell's paintings," she said. "That was very cool."
At the end of most rides, the tour has buses to take riders to various spots in town, or they can relax and get a massage at the campsites. There also was a DJ and beer garden set in Woodbury Park for the riders' leisure Tuesday night, said Robert Powell, co-director of the tour.
Layne Nelson, 59, of Gunnison, is riding with her friend Bill Sanderson, 49, of Newcastle, along with her husband.
After Tuesday's leg, they were looking forward to heading into town and getting food and drinks.
Nelson, riding in her fifth Bicycle Tour of Colorado, said the ride has been smooth but windy.
"The wind has been brutal. We've had several people tell us that this is the worst they've ridden in," she said. "We can't remember it being much tougher."
The tour concludes Saturday in either Fort Collins or Laramie, Wyo., depending on the wildfire situation on Colorado Highway 14 to Fort Collins.