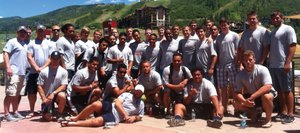 Steamboat Springs — On Wednesday at the Bear River Bar & Grill, the food had no chance.
Some 60 burgers disappeared in a matter of moments. Corn and potato salad vanished.
It wasn't an eating contest but a gathering of the top 28 U20 rugby players in the United States.
The team was in Steamboat Springs this week for a team-building camp in preparation for the World Rugby Trophy.
The tournament begins Monday in Salt Lake City and features eight countries battling.
The United States opens Monday against favorite Tonga.
"All the kids that are coming through have been in high school and have been playing for five or six years now," head coach Scott Lawrence said. "You're starting to see more and more young players. My 5-year-old son is already playing."
It's because of that — and the 28 behemoths who were in town — that things should be looking up for the United States.
In Lawrence's first year as coach, the team finished seventh out of eight teams at last year's World Rugby Trophy tournament.
Lawrence admitted that last year was a learning experience. But this year, the competition already is better.
This year's team features players from everywhere: Denver, California, Pennsylvania, New Jersey, Minnesota, Louisiana, England and Arizona dot the map.
It's a collection of the top 18-, 19- and 20-year-old players in the country. Players must have a birthday in 1992 or 1993 to be eligible.
They started trying to make the team last year. There were two combines in San Francisco and Atlanta, where more than 100 of the top U20 rugby players were invited.
From there, they cut it to 50, then down to 30 and finally to 28 for the start of the tournament.
"This is the perfect place to team bond," said Vaha Esikia, the team's skill and development coach. "They've been bonding and team bonding. We're getting our system and pace of play down."
Esikia and Lawrence each had friends in Steamboat who recommended it as a place to train before the tournament.
The team utilized Whistler Field for training sessions and was able to work out at CrossFit.
In an attempt to bring together a group considered an underdog for this week's tournament, the team members all stayed in one big cabin and cooked for one another. They also have enjoyed floating the Yampa River and going to the Strawberry Park Hot Springs.
"I feel good about the tournament and my team," said Teli Veamatahau, a flanker originally from Tonga who plays in Minnesota.
Lawrence said the goal is to win the tournament. He pointed to the competitiveness and rapid growth in U.S. rugby. Several players who made the team last year didn't make it this year.
"We've had a lot more time together," said Will Magie, who played last year and is the captain this year. "We've had 10 days in Canada and 10 in Colorado. We're fit in our training, as well."
To reach Luke Graham, call 970-871-4229 or email lgraham@SteamboatToday.com