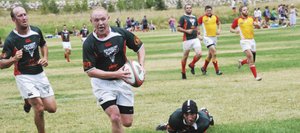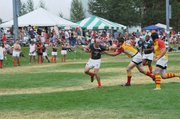 For more
Read about the women's rugby team's debut here.
Steamboat Springs — It's unclear when the Colorado-Wyoming rivalry started, but each July at Ski Town Fields, it's certainly renewed.
And in the 38th annual Cow Pie Classic, it seemed only fitting that it was once again a Steamboat Rugby Club and Wyoming final.
In the match of the tournament — one that featured a red card, five yellow cards, punches, kicks, two passioned sidelines and one WWE Macho Man-style flying elbow — Steamboat did enough to come away with a 13-8 win.
The championship was Steamboat's second in a row and fifth in the past six years.
"The Wyoming game was a completely different battle," Steamboat coach Julian Bristow said. "It was good to see Steamboat adjust. I would even go as far as saying (Wyoming) was unlucky to go away with second place today."
The two teams have a storied — and sometimes checkered — past.
Wyoming comes to Steamboat every year in honor of a fallen player. The team brings with it alumni and current players.
The team dominated the Cow Pie for years, beating up on teams and virtually making the tournament its own.
But six years ago when Steamboat's Michael Hurley — who flew in from Australia for the weekend — revamped the team, the rivalry was on.
Last year, Steamboat beat Wyoming in the finals, 38-3.
This year, however, there would be no blowout.
Wyoming missed an early penalty kick in the opening moments that would set the tone for the rest of the game.
Steamboat got a try from Lawrence Tuihalamaka to go up, 7-0. But that's when things got physical.
A brief scrum in front of Steamboat's bench led to several punches being thrown. One Wyoming player sprinted in 25 yards, flew threw the air and then threw an elbow. He was red-carded, and Wyoming had to play down a man for the rest of the match.
"We want to win. This tournament means a lot to us," said Wyoming alum Rhett Hines. "You play them hard. I think it's developed into a rough bunch, a rough game. It's all in good nature."
Still, it was a game. Wyoming nailed a penalty kick, but missed another to cut the lead to 7-3.
Steamboat's Robbie Shine drilled a penalty kick to make it 10-3, before a Wyoming try made it 10-8.
Wyoming had a shot to take the lead, but missed another penalty kick — its third of the game.
Play continued to be physical. Wyoming made an illegal tackle on Shine near their sideline, and things looked like they might blow up again.
But Shine, who went 1 of 3 kicking last weekend, was nails this time. His penalty kick from 56 yards out split the uprights, giving Steamboat a 13-8 lead.
"It turned out to be a foot game," said Shine, who along with Bristow was moved to the wings to neutralize Wyoming's kicking game. "We like to play Wyoming, but we don't like them. They used to beat up on everyone. When you play them, you know it's going to be a battle."
To reach Luke Graham, call 970-871-4229 or email lgraham@SteamboatToday.com