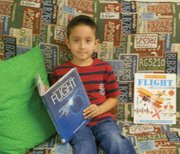 Dustin Cerda, 6, of Hayden, was chosen as the Hayden Public Library's third reader of the week. Dustin often visits the library with his mom and siblings and participates in the Summer Reading Program and Bradley's Book Buddies. His mentor this summer is Daniel Morales. Dustin will be in first grade next year. He has an older sister, Alondra, who is 9, and a younger brother, Dylan, who is 1. His parents are Maria and Sergio.
Dustin moved to Hayden five months ago from Mexico. He likes to play with his cousin, Josh, and friends Cale and Kaden. He says when he grows up, he will become an airplane pilot.
His favorite color is green; his favorite food is chicken with ketchup; and he likes the movie "The Hulk." He enjoys playing with his airplanes. His favorite subject in kindergarten was counting, and his favorite sports are tee ball and soccer. He enjoys books about airplanes and dinosaurs. During the summer, he likes to go swimming.
When asked if he had any advice for other kids about reading, he said, "When they are 6 years old, they should read books." Dustin said he was "happy" when he found out he was chosen as the Reader of the Week.
As the Reader of the Week, Dustin gets to choose the food for the following week at Bingo and Cooking. Dustin chose to make "apple smiles."