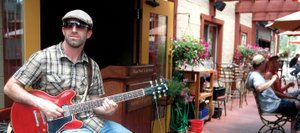 Past Event
Saturday, July 7, 2012, 9 p.m.
Sweetwater Grill, 811 Yampa Avenue, Steamboat Springs
Not available / Free
Steamboat Springs — It was no Bayou summer heat, but the Fourth of July in Steamboat Springs was a hot day. So on a break from playing music, the members of Billy Franklin and NOLA Live, a funk and soul band visiting from New Orleans, walked inside Mambo Italiano's cool bar where they drank ice cold beer and joked with the bartender in their Louisiana accents.
"Everyone seems to appreciate the music a lot," bassist Doug Dietrich said about playing in Steamboat. "Maybe they just take the time for it. They're very appreciative."
NOLA Live is in Colorado this week playing several shows, including concert series in Ouray and Vail and a show at State Bridge. They also performed at the Taste of South Routt last week. On Saturday, the New Orleans-based quartet will appear at Sweetwater Grill for a concert event that's becoming a downtown tradition.
The third annual Midsummer Mardi Gras showcases the band's authentic New Orleans sound while Cajun food specials and Mardi Gras beads complete the festive atmosphere.
"The last one went off pretty well," Dietrich recalled. "Steamboat can definitely hang."
NOLA Live goes on at 9 p.m., and Midwest blues band the Avey Brothers will play during happy hour earlier in the day.
NOLA Live comprises Franklin on guitar, Dietrich on bass, Kyle Cripps on saxophone and keyboards, and Kyle Sharamitaro on percussion.
Franklin, who moved to Steamboat for 1 1/2 years after Hurricane Katrina ravaged his home city, is the reason the band is here. He returns to the Yampa Valley every summer to play gigs and record with First String Music's Steve Boynton.
Here in Steamboat, Franklin finds a summer niche, an appreciative music community and a chance to play outside the New Orleans music scene.
He wanted to share that with his New Orleans cohorts.
"This band is a little bit more of what I really love," said Franklin, who is known for fronting the New Orleans band E.O.E. "All these guys are really great musicians in their own right and can stand on their own, but they aren't afraid to just play two notes for an entire song if they need to.
"These guys are good, and it's chill. There's a certain 'it' factor for this band. It's more accessible."
He said the band doesn't even have to play traditional Mardi Gras staples: The band's funk and soul vibes carry the message of New Orleans across on their own.
"We do the New Orleans thing, the infectious groove thing," Cripps said. "We kind of can't help it."
To reach Nicole Inglis, call 970-871-4204 or email ninglis@ExploreSteamboat.com