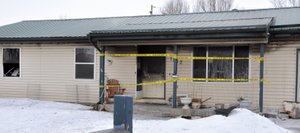 Originally published February 7, 2012 at 11:30p.m., updated February 8, 2012 at 01:16p.m.
Photo Gallery
House fire at 1912 Woodland Ave.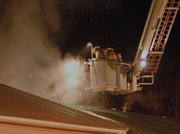 Craig — Ursula Hunter, of Craig, was killed in a house fire Tuesday night on Woodland Avenue in Craig.
Patrick Hunter, was taken to The Memorial Hospital in Craig. A status on his condition is not available.
Nearly the entire roster of Craig Fire/Rescue firefighters responded to the fire at about 7:45 p.m.
Craig Police Department Sgt. Corey Wagner and officers Lance Eldridge and Mike Edwards were first on the scene.
As the officers approached the burning home, Edwards said he could hear someone inside.
"Mike was the first one to reach the door," Wagner said. "The door was open, but there was so much smoke coming out of the front door you couldn't see anything inside."
Edwards kneeled below the smoke and saw Patrick Hunter inside the home. He was not far from the doorway, and Edwards went in to get him.
Once Edwards had gotten ahold of Patrick Hunter, Wagner and Eldridge helped pull him out of the home.
Fire Chief Bill Johnston said he did not know the cause or origin of the fire.
"I can't tell you much," he said. "When I arrived, the flames were probably 30 feet high, and it looked like the fire started in the rear, left side of the house, but we won't know anything until I can get my investigators inside."