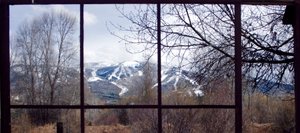 Originally published April 13, 2012 at 11:58a.m., updated April 13, 2012 at 05:58p.m.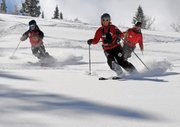 Keep up with the conditions
- For local weather conditions and recent coverage of Steamboat Springs weather, visit SteamboatToday.com/weather
- View webcams of Steamboat Springs at SteamboatToday.com/webcams
- For weather information from the National Weather Service, including storm warnings and advisories, visit www.wrh.noaa.gov/
- The Colorado Department of Transportation provides road conditions, closures and traffic cameras at www.cotrip.org. For travel information by phone, call 511 from anywhere in Colorado or dial (303) 639-1111.
- For flight information, visit www.flightview.com/ TravelTools/. By phone, call Delta Airlines at (800) 241-4141; United Airlines at (800) 864-8331; and American Airlines at (800) 433-7300
Steamboat Springs — After a winter dominated by a lack of snow and spring-like temperatures, Closing Day at Steamboat Ski Area could be a powder day.
The National Weather Service has issued a winter storm warning for the mountains surrounding Steamboat Springs from noon Saturday to 6 a.m. Monday. The warning predicts snowfall amounts of 6 to 12 inches.
National Weather Service meteorologist Tom Renwick said Friday that a "nice, deep closed low" was working its way across Nevada and toward the Four Corners. He said it then would head northeast and begin to drop moisture on Northwest Colorado. Renwick said the storm could last for almost two days.
"The really heavy 'Here we go' snow, it's really for a long period," he said. "I'd say it's got a good bit — more so than most of the storms we've had this winter."
The ski area has received 2.5 inches of snow in April, with all of it coming in the past two days. The average April snowfall on the mountain (through Closing Day) is 19 inches.
During a 2010-11 ski season that saw near-record snow totals, April brought only 18 inches of snow to Mount Werner, with 8 of them falling on closing day. The year before, April saw 40 inches of snow to close out a relatively low snow year.
This weekend's storm potentially could bring Steamboat Ski Area up to average April snowfall.
Renwick said the looming storm isn't anything out of the ordinary for April — it's just that the rest of the winter has been out of the ordinary.
"People say, 'Oh, that's a lot of snow,' but it really isn't," he said. "That's where you should be.
"Remember last year when it just kept snowing and snowing until forever? That's generally what happens."
Temperatures are expected to drop as the system moves into the region. Highs this weekend are forecast in the upper 40s, and lows will dip into the upper 20s.
Renwick said Monday will see a return to daytime highs in the 50s, with weak disturbances possible Tuesday and Thursday nights.
The ski area hosts the annual Cardboard Classic at 10 a.m. Saturday. The Splashdown Pond Skim is at 1 p.m. Sunday, followed by free concerts from Toots and the Maytals and JJ Grey & Mofro beginning at 2:30 p.m. in Gondola Square.
To reach Matt Stensland, call 970-871-4247 or email mstensland@SteamboatToday.com
To reach Nicole Inglis, call 970-871-4204 or email ninglis@SteamboatToday.com