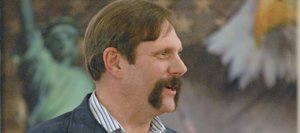 State Rep. Randy Baumgardner, R-Hot Sulphur Springs, visited the Bears Ears Tea Party Patriots on Saturday.
Baumgardner currently represents Colorado House District 57 but announced his candidacy for Colorado Senate District 8, following the redrawing of district lines earlier this year.
His opponent, incumbent State Sen. Jean White, R-Hayden, visited Craig a week earlier and criticized Baumgardner for voting in favor of the State Implementation Plan.
The SIP puts House Bill 10-1365, the Clean Air, Clean Jobs Act, into practice.
HB 10-1365 has been criticized in the region because it outlines plans to convert a number of Front Range power plants from coal fired to natural gas by 2018.
Baumgardner defended his vote to constituents Saturday.
"Someone in this room, and I'm not going to say who or even point him out, said he received a phone call from my opponent who said Randy Baumgardner voted for 1365 putting natural gas over coal, and that's a lie," Baumgardner said. "I did vote for the SIP because a number of us thought at the time it would be better to get out in front of it before the federal government came in and made us change all of the new regulations.
"I take responsibility for that vote as a bad one."
Baumgardner then fired back, questioning White's platform that includes reducing the size of government.
"I've never, through the course of a campaign, spoke ill of my opponent," Baumgardner said. "I don't believe in it, but your voting record is your voting record.
"My opponent not only voted in favor of Senate Bill 12-130, she co-sponsored it."
SB 12-130, Baumgardner said, provides government oversight on how parents care for their children from the womb until 8 years old.
In addition, SB 12-130 sets up a separate government agency to provide oversight on parents.
"My opponent has touted this bill as a job creator," Baumgardner said. "This doesn't promote job growth in the private sector, it increases government jobs and the size of the government."
Baumgardner then informed the audience of a bill he has written that he thinks could be a boost to the economy in Northwest Colorado.
HB 12-1160 proposes capturing methane gas produced by coal mines and converting it into electricity. In addition to creating jobs, Baumgardner said it would add another item to the state's alternative energy portfolio.
Since the campaign season began, Baumgardner said White has been vocal about her 100-percent bill passage rate since replacing her husband, Al, in 2010.
But before the conclusion of the meeting, Baumgardner asked Craig voters to consider his ability to win elections when casting their votes during the June primary.
"Maybe you liked what I had to say or maybe you didn't like all of what I had to say, but I've proven myself for four years for you," Baumgardner said. "I've won three elections, one primary and two general elections."
Next on the Bears Ears agenda is the April 17 Freedom Rally, which begins at 5 p.m. on the Moffat County Courthouse lawn.