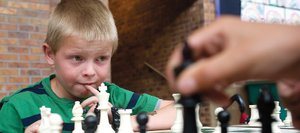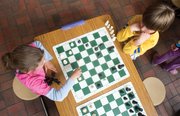 How to help
Anyone interested in volunteering next year or starting a chess club at another Steamboat Springs school can email Stephanie Smith at sasmith04@zirkel.us.
Steamboat Springs — The first game between second-graders Lauren Parks and Emlee Reiter during the inaugural Strawberry Park Elementary School Chess Club mock tournament ended in a draw.
It's a good thing, too. The girls are best friends. But they both said their friendship isn't affected by who wins or loses.
"You can still be friends but have a fun game," Lauren said before admitting that she likes to win.
Lauren and Emlee were among the 47 Strawberry Park students who competed in the tournament that pitted players of similar ability against one another in two 20-minute games Thursday afternoon at the school. It ended with cookies and gelato provided by Ciao Gelato.
"We thought it would be really nice to close the season with a mock tournament to celebrate what the kids have learned," said parent Stephanie Smith, a former Strawberry Park counselor who ran the Chess Club this year and organized the tournament.
Smith said she would like to see chess clubs at other district schools next year, which would allow the tournament to rotate between schools.
Interest in the Chess Club started slowly three years ago, but Smith said the free club sometimes boasts more than 40 players when it operates from 8 to 8:30 a.m. Tuesdays and Thursdays.
"It's a great way for kids to start their day," Principal Celia Dunham said. "It's amazing how many kids have learned to play chess."
Soda Creek Elementary School Counselor Lynn Snavely started the Chess Club when she was in the same position at Strawberry Park. Snavely said she operated a similar club with success at her previous job in Maui.
Snavely said studies have shown that critical thinking skills students learn in chess significantly impact their behavior.
"I wanted kids to learn how to play chess because it's a real good way to learn how to stop, think and act," she said.
The students are starting to get pretty good.
Robert Yazbeck, who volunteers with the club, played against a student in the first game of the tournament because of the odd number. He didn't claim to be an advanced player but said he liked chess.
"I think it's great," he said. "Most of them can beat me, though."
Fourth-grader John Hannaway said he thought the tournament was a good idea because more might choose to play chess in a more competitive environment. John said he's not very good after learning to play last year, but he enjoys it.
"I like it a lot," he said. "It's a strategic game. It's not like a video game. You actually have to use your brain and think hard. Sometimes it's tough. One move can forfeit the whole game. It's tricky. You can do one wrong move and the game's over."
To reach Jack Weinstein, call 970-871-4203 or email jweinstein@SteamboatToday.com