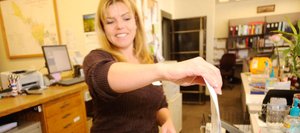 Originally published November 3, 2009 at 11:59a.m., updated November 3, 2009 at 06:12p.m.
Steamboat Springs — It's human nature that voters wait until the last day to vote, Routt County Clerk and Recorder Kay Weinland said. From 7 to 10:30 this morning, 205 residents had turned in ballots or voted in person at the Routt County Courthouse on the final day of voting. By 3 p.m., that number had jumped to 629 voters, with more expected as the work day draws to a close.
More than 850 people had voted Tuesday as of 6 p.m.
"It's been busy, busy, busy," Weinland said early Tuesday.
There were no lines at 10:30 a.m., but a slow, steady stream of voters returning ballots. Ballots will be accepted until 7 p.m.
Rick Fisher, who dropped off his ballot at the courthouse this morning, said he was pleased with the county's first mail-in election, but he didn't return his ballot soon enough to mail it.
"I think it's a great idea," he said. "It saves us money and makes it smoother."
Weinland previously said the mail-in election would be cheaper because it eliminates the need for polling places and for training for volunteers working at polling places.
Mike Bell, who also voted this morning, said he is a regular voter who encourages his sons to participate. He said he simply forgot to drop the ballot in the mail in time to return it, so he decided to drop it off at the courthouse.
Inside the office, about 10 workers and election judges take the submitted ballots through a series of steps: taking the ballots out of the ballot boxes, bundling them into groups of 25, verifying the signatures, then separating the ballot and the envelope and counting the votes.
Weinland said she has workers on standby to come into the office if the pace picks up.
An electronic voting machine is also available at the elections office, designed for people with disabilities.
As of Monday night, more than 4,000 votes were cast in the election. The final tallies will be counted at 7 p.m., and no early tallies will be available before then.
- To reach Zach Fridell, call 871-4208 or e-mail zfridell@steamboatpilot.com