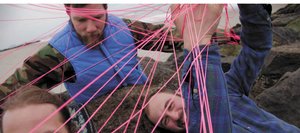 Audio clip
"River" by Akron/Family
If you go
What: Akron/Family, rock and other
When: 9 p.m. Wednesday
Where: Ghost Ranch Saloon, 56 Seventh St.
Cost: $10 at the door
Call: 879-9898
Through seven years and a handful of records, the members of Brooklyn-based rock group Akron/Family have been tagged for their experimental approach to the American song, whether it's folk or rock or something they've made up.
Recently, Akron/Family has shifted in a new direction, building on what it knew and what it likes to create - a fluid concept-rock-without-a-theme sound that'll be on display Wednesday at Ghost Ranch Saloon. The show starts at 9 p.m., and tickets are $10 at the door.
Dana Janssen - who along with Seth Olinsky and Miles Seaton provides vocals and buffet-style instrumental work for the band - promised an "energetic, diverse, entertaining, dynamic, fun" Steamboat performance in a recent phone interview.
With the band's latest record - "Set 'Em Wild, Set 'Em Free" came out in May - Janssen has been hearing some new terms pop out for his group. The band doesn't stick to a straightforward song format on CD or in its live set, and that's brought around a term familiar to the Colorado music scene and somewhat foreign in Brooklyn: jam band.
"I can see why people would say (jam band), because we definitely don't stick to the song as it is on the record, and we don't do song, stop, song, stop. : We just kind of blend it into a set that doesn't have any breaks, which is more on a jam band kind of mentality - which is cool, I like that about jam bands, and I think it can be really creative," Janssen said.
On stage, Akron/Family does sometimes jam, working the crowd into a sort of tribally influenced frenzy that can include dancing, a conga line, jumping up and down, shouting back and forth - anything the band's members can encourage an audience to do. The atmosphere ends up with a "let's do this together" spirit, Janssen said.
From track to track, "Set 'Em Wild, Set 'Em Free" pulls in drum machines, bass and electronics on a level Akron/Family hadn't used before, and occasionally steps into what Janssen called "slap funk" - it's a territory in which the musician chooses his words carefully.
"I'm not hesitant to say it, it's just one of those things, man. : When I say words like that, my problem with it is that people automatically associate it with either a jam band in the way that they do funk and they also do hip-hop : it's not like that at all. : It's influences that start to peek their heads in there," he said.
Instead of identifying with a genre, Janssen said he'd rather have people figure out Akron/Family for themselves.
"Our music is open and inviting to everybody, be it a jam bands fan or indie rocker or whatever you are, everybody is welcome," he said.