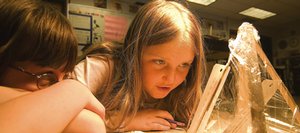 Tuesday, January 20, 2009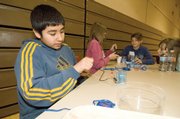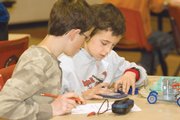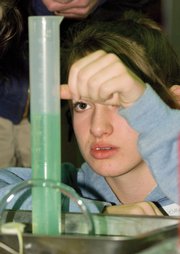 Steamboat Springs — The science projects spread throughout Steamboat Springs Middle School on Monday were unlike any fifth-grader Peter Rosenthal had done before.
With hydrogen-powered model cars, spinning wind turbine blades creating energy to suck up water and solar panels powering toys, the Science Explorers program instructors used hands-on techniques to teach students about renewable energy in a way Peter said he had never seen before.
"We're doing a lot more projects than working in textbooks," he said. "Textbook assignments are sometimes fun but sometimes not."
And Peter was having fun during the event using solar cells to power toys around the classroom.
The daylong science lesson, hosted by the University of Colorado at Boulder's Science Discovery outreach program, brought 78 teachers and students from five school districts back to school on the students' holiday.
The Routt County districts of Hayden, South Routt and Steamboat Springs were represented, as were West Grand and North Park districts. The Science Explorers teachers will travel to 15 locations this year.
Science Explorers Director Kristi Dahl said the event is meant not only for the students but also as a learning opportunity for teachers and eventually students who were not able to attend the event.
By providing a curriculum for the activities and supplies to replicate the experiments back in the classrooms, Science Explorer teacher Fred Gluck said he wants the program to get teachers to think more about the science taught in the schools.
"I hope that we get them more psyched about science," he said.
Strawberry Park Elementary School fifth-grade teacher Erin Hesse, who also attended last year's workshop focusing on light and vision, said she would not be able to do as many programs in her classroom without the supplies provided by Science Discovery.
"They gave us everything we needed to do the whole experiment," she said, including cow eyeballs to dissect. "If I didn't have this (equipment) I wouldn't do it. I wouldn't have the ability to do it. I wouldn't know where to start ordering (cow's) eyeballs."
The program is also funded by the Northwest Colorado Board of Cooperative Educational Services and the Colorado Governor's Energy Office, along with a $200 registration fee per team of five students.
- To reach Zach Fridell, call 871-4208 or e-mail zfridell@steamboatpilot.com