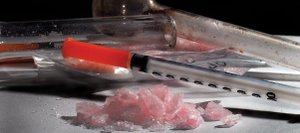 Wednesday, January 7, 2009
Craig — Tausha Merwin has led two lives - one being a long downward spiral and the other the difficult climb back up.
There's the life littered with fractured relationships, broken dreams, arrests and years of addiction and the other revolving around employment, education, family, a sense of pride and hope.
Ask the 28-year-old Craig woman which life works and which doesn't.
"Once you can let go of that life, it's so much better on the other side," said Merwin, an 11-year methamphetamine addict. "Things are enjoyable again. When you're on meth, nothing is enjoyable unless you're high."
Merwin - a Communities Overcoming Meth Abuse member, client in the Moffat County Drug Court system and an advocate for a program tonight centered on meth education and awareness - is open about how desperate life as a junky was.
She didn't have a job or a high school diploma. She had a 5-year-old son she didn't see, a mother she didn't speak to and problems with the law.
She used meth every day, getting her high by smoking and swallowing the highly-addictive and destructive drug for five years and then jabbing a vein to inject it for six years.
She had gotten so low toward the end, she felt like she had to look up to see rock bottom.
So she made a decision to get clean.
That was January 23, 2008, almost a year ago.
Today, life is different.
She doesn't hang out with users anymore.
She earned her GED in November. She's had a job at a local hardware store since April 2008.
She sees her son and her mother, who is raising him. She volunteers with COMA.
She knows there are people out there like she used to be and who face the challenges she did in turning it all around.
"A lot of people are tired of living a meth life," Merwin said. "But they've been doing it so long, they don't know how to get out."
She also knows there are many more people who don't understand how serious meth has become locally and statewide.
To both, she has a simple piece of advice: Tune in tonight.
Documentary 'historic'
Merwin and Ken Johnson, a veteran Craig Police Department detective and member of the area task force, the All Crimes Enforcement Team, sat at a table Tuesday morning and spoke about today's 6:30 p.m. statewide program, "Crystal Darkness," a documentary "aimed at fighting back against the scourge of crystal methamphetamine" in Colorado.
Johnson said the two were once each other's nemesis, but are now united in shedding more light on the wide-range of problems methamphetamine causes.
The documentary can help do just that, Merwin and Johnson said.
Nearly every broadcaster in the state will pre-empt programming to air the 30-minute "Crystal Darkness" program. It also can be heard locally on the radio, on 55 Country (550 AM) and KRAI (93.7 FM).
At 7 p.m., the local radio station will take calls from the public. A panel - comprised of COMA members, law enforcement and ex-meth users - will be available to answer any call-in questions.
Childhelp, a nonprofit organization founded in 1959 and one designed to "help victims of child abuse and neglect," sponsored tonight's documentary.
Similar documentaries - specifically tailored to each broadcast area - have aired in Nevada, Oregon, Arizona, New Mexico and Oklahoma, as well as cities such as San Diego, Sacramento and El Paso, Texas.
Johnson said he watched the Arizona documentary while on vacation with his parents. He said the program had a profound effect on his folks.
"They had a whole different idea of the people who use drugs," Johnson said. "I don't think a lot of people understand (the meth problem) unless they have been directly affected by it."
Tonight's documentary was filmed in October in Colorado and includes interviews with Gov. Bill Ritter, first lady Jeannie Ritter, attorney general John Suthers, law enforcement officials, recovery specialists and recovering meth addicts.
Johnson said the production lives up to its billing.
"They call (the documentary) a historic event," he said, "and it really is."
Leveraging momentum
John Giroux, founder and chairman of the Coalition of Loveland for Education Awareness and Resources, a contributor to tonight's documentary, said the program has a targeted audience.
"This documentary is not really aimed at the current user, although it'd be nice if they saw it," said Giroux, whose group coordinated the distribution of 3,500 fliers about the documentary in Moffat County. "It's really aimed at targeted groups - parents and kids in the 14 to 20 range."
Raising awareness and spreading information about meth, he said, will perhaps prevent future use.
Giroux was one of the few people able to watch an advanced screening of the documentary Monday. He said he was pleased with the finished product, particularly the end.
"There was a message of hope," he said.
In Loveland, Giroux's group is using the documentary as a springboard for community meetings to follow. He said his group wants to "leverage momentum" from the program, and he advises other communities do so, as well.
"It's a great event, but it's really what a community does with it after that makes the biggest difference," Giroux said. "Take advantage of the heightened awareness and do something with it."
Merwin said she understands how hopeless some users may feel and that tonight's documentary may be able to help them escape.
"I had the thought that I didn't have anything, so I didn't have anything to lose," she said. "If it can help one person (from feeling that way) we've done our work."