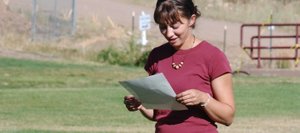 Saturday, August 22, 2009
Tom Ross
Tom Ross' column appears Tuesdays and Saturdays in Steamboat Today. Contact him at 970-871-4205 or tross@SteamboatToday.com.
Find more columns by Tom here.
Steamboat Springs — I'm no master thespian, but I did spend a couple of hours Friday afternoon hangin' with Willy Shakespeare and Stuart Handloff. I learned to read the Bard out loud and with unfettered emotion, but after indulging in a surfeit of tomfoolery, I've missed yon deadline.
There's nothing left for me to do but write a (short) sonnet. Thanks, readers and victims alike for your indulgence.
Here goes nothin', for haste I must make:
Pray dear editor, stay thy red quill another moment
For what are false deadlines when measured beneath the spinning net of the stars?
Whilst thou persist in visiting upon my soul such unrelenting torment
My colleagues are flitting and flirting through the local bars.
Never again will I approach the Sabbath column with such temerity
We scribes, who possess so little but our own parsed out time
Must we yet forgo the temptation of words sifted for posterity?
Stay your quill I beseech you! Or grant me a headline drenched in rhyme.
OK, so like, I spent a good part of yesterday crashing these great art seminars and workshops that were part of the inaugural Steamboat All Arts Festival. They continue in downtown Steamboat today on Yampa Street and up at the mountain under the tent at Torian Plum. You'll find the schedule with the story about the All Arts Festival on page 4. Just turn the page - you can't miss it.
Friday's workshops were entertaining and challenging, and I would not have missed the ones I was able to attend. It was the last workshop of the day, Handloff's acting workshop, that really stretched my personal boundaries.
I never participated in drama club in high school, and although I don't consider myself to be a shy fellow, I'm frankly intimidated by Shakespeare's formal, often inscrutable language. It's difficult enough to read, let alone pronounce.
One of my classmates, Kari Faulk, agreed with me.
"I don't like all the decoding" that reading Shakespeare demands, Faulk said. "You really have to stop and think."
It's one thing to consume Shakespeare in bed and stay awake beyond 15 pages, but it's entirely another thing to sit in an audience during a live production of Shakespeare and grasp every meaning, every nuance of the dialogue. Before you know it, the play has passed you by.
Handloff, an actor, director and drama instructor for 35 years, set me free Friday afternoon. If you're struggling to understand Shakespeare, it's possible that you're trying too hard.
Shakespeare may have been writing for British royalty, Handloff said, but he certainly wasn't writing for college graduates. At the same time he wrote to entertain the queen, he was trying to sell tickets to street people half drunk on mead.
"He was writing for Beavis and Butthead! He was writing for the Three Stooges," Handloff said.
I did not know that about Curly, Moe and Larry, nor Shemp.
A good part of Shakespeare's genius is that it isn't necessary to grasp the meaning of all of his words to enjoy one of his plays, Handloff said. His audiences picked up on humor and drama through the actors' abilities to translate his dialogue into action. They absorbed the meaning of the play through the rhythm and tonalities they employed.
But the seven of us attending his workshop on Torian green weren't about to get off easy with a mere lecture. The director handed each of us a different hand-selected love sonnet and commanded us to begin walking and reading out loud (simultaneously) - over and over and over.
By walking and raising our collective pulse, we began to read with the rhythm Shakespeare intended with his adherence to the iambic pentameter - the rhythm of the heart.
When our hearts were fairly racing, Handloff asked us to pay attention to punctuation while continuing to walk and read out loud. Every time we bumped into a comma we were to execute a 90-degree turn. And every time we smacked up against a period or a question mark, we were to reverse direction. Finally, we were directed to repeat the drill, this time imagining that we were reading to a specific person - our imagined audience - our acting target.
When he was done with us, we took turns performing our sonnets, and the transformation was obvious.
I don't know if I hit my own acting target Friday afternoon, but I left full of enthusiasm for a live performance. And before I go, I'm going to read portions of the play - out loud and with emotion - while walking along the Yampa River Core Trail.
Don't worry. I'm mostly harmless.