Sunday, September 30, 2007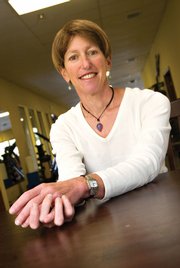 Steamboat Springs — Karen Schulman, who was diagnosed with breast cancer in April, has taught photography for 30 years as a tool for personal growth and self-discovery.
"I thought I was way too aware to have something like this happen to me, and when it did, I realized that I was quite out of balance," Schulman said via phone from a motor home in Golden, where she is staying during five weeks of radiation treatment at Rocky Mountain Cancer Centers in Denver. On Thursday afternoon, she had completed 17 of 25 days of the treatment.
"When someone says to you, 'You have breast cancer,' all of a sudden it's a whole different ball game," she said.
A month of awareness
October is National Breast Cancer Awareness Month, and the Yampa Valley Breast Cancer Awareness Project is taking donations and teaching prevention in anticipation of its sixth annual Bust of Steamboat fundraiser.
According to the American Cancer Society, breast cancer is the second most common cancer for women in the United States (behind skin cancer), and the second leading cause of cancer deaths in women (behind lung cancer). The organization estimates there are 2.5 million breast cancer survivors in this country and that about 178,500 new cases will be diagnosed by the end of this year.
Stephanie Loomis, a physical therapist who finished her chemotherapy treatments at the end of July, said the experience has changed how she views life and has taught her to take things a little easier.
"It's a large mountain to climb with diagnosis and treatment and possibly more, and then the threat of having different cancers is very large and very scary," she said.
Because the breast cancer awareness project is small and local, it is easier to get emotional and financial support, Loomis said.
Deb Curd, who founded the organization in 2000 and the Bust of Steamboat in 2001, said the project's funds help breast cancer patients in Routt and Moffat counties pay for medications, procedures such as biopsies and lumpectomies, prevention, physical therapy and more.
For Loomis, the organization paid for a hairpiece after her chemo and some acupuncture sessions.
Last year, the awareness project started covering annual exams for the uninsured or underinsured.
"Most women who are not getting their mammogram because they don't have money, they're probably not getting their annual. We want prevention, so we would just as soon get them into the doctor, and do prevention and wellness before there's a procedure required," Curd said.
"Early detection increases a woman's chance for survival to 98 percent, so that's our big push. Get it done - there's no reason not to anymore."
The Bust of Steamboat
The fundraiser, for which local businesses sponsor designers to create bejeweled, bedazzled and otherwise artsy brassieres, will be held as a live auction at Three Peaks Grill on Oct. 26.
Twenty bras will be up for bidding, and attendees can pay $1 to vote for their favorite. All the funds go to the awareness project, and the bras will be on display in local banks all month.
Last year, the event raised more than $41,000, and the organization paid out $53,000 to local patients, Curd said.
Although Schulman has lived in Steamboat Springs for 16 years, she said she was not involved in the awareness project, or overly aware of what the organization did, until recently.
"As a matter of fact, the first biopsy I had, I saw these little bookmarks that had all the things that the project does for people, and I went, 'Wow, this sounds like a really interesting organization,'" she said.
"At that point, I was hoping my tests were benign."
In late April, Schulman had a bilateral mastectomy, followed by four sessions of chemotherapy that were three weeks apart. Although she has insurance, Schulman said some costs aren't covered, such as the $1,600 or so it'll take to park her 22-foot Rialta motor home in Golden for five weeks. The breast-cancer awareness project gave her $500 toward her living expenses and reimbursed her for two wigs she bought after losing her hair in chemotherapy.
Lynda Brees, who was diagnosed in March 2006, had two surgeries that spring, then was rediagnosed this May, said the awareness project - led by Jan Fritz, the clinical nurse coordinator for the cancer program at Yampa Valley Medical Center - helped offset her hiked-up insurance payments when she was laid off from her job.
"She just knows that we all battle, and we all have specific needs," Brees said of Fritz.
"It's not a club you ever think you'll want to be in, but once you're there, you can't imagine the support that you'll get," Brees said.
Schulman said she's been amazed at who and what has come out of the woodwork to give love, care and kindness.
"When something happens to you, it's like when you're on the football field - you have to take the ball and run with it," she said. "Asking questions, becoming knowledgeable, being assertive in medical situations and doing research, is so, so important."
"It's not just about paying the bills and getting the treatments. It's important to build a healing team, and that's kind of what I've done."