Friday, September 28, 2007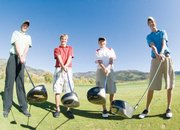 If you go
What: 2007 CHSAA Boy's State Golfing Championships
When: Monday and Tuesday. The first golfer is scheduled to tee off at 8:30 a.m. Monday.
Where: Broadlands Golf Course, 4380 W. 144th Avenue, Broomfield
Steamboat Springs — High school golfers hoping to be in the hunt for a state title should take some advice from Jay Anderson, general manager of the Broadlands Golf Club.
Anderson shared a little secret just days before the start of the 2007 CHSAA 4A Boys State Championships, which tees off Monday at the course in Broomfield.
"Stay to the left," Anderson said. "The best way to score well on this golf course is to stay in the fairway. Most of the trouble will come on the right side of the course."
The advice probably will not shock any of the top golfers who make up the field of 84 in this year's tournament. But to golfers on the Western Slope, the par-72, semiprivate Broadlands course, which opened in June of 1999, is still a bit of a mystery.
Anderson said the course would provide opportunities for golfers to pull out the driver, but he warns there are plenty of places to get into trouble along the 7,100 yards of grass that will pave the road to a state title.
Golfers must be aware of the water, which comes into play on 11 of the course's 18 holes. And numerous bunkers and native grasses line the fairways of the course designed by Rick Phelps.
Sailors coach Steve Dodson said his players plan to take advantage of an official practice round Sunday before the tournament opens. But he knows the lessons will continue during Monday's opening round and Tuesday's final round.
"I have never heard of this golf course before this year," Steamboat senior Michael Weston said. "It makes it hard, but we are getting in a practice round, and that should help. This isn't a one-day tournament, so we will get a couple of days to get familiar with the course."
The Sailors are coming off a strong showing at the regional tournament in Cortez, where Weston finished third with a career-best round of 73 and the Sailors placed second as a team.
Weston and fellow senior Billy Taylor will be the veterans on this year's state qualifying team. Sophomores Kaelen Gunderson and Scott Ptach will be playing in a state tournament for the first time.
"I told Scott (Berry) that I was really nervous and that I was shaking on the first tee at the regional (in Cortez), and he said if that made me nervous, this was going to be a lot worse," Gundersen said.
However, Gunderson said he plans to take some advice from one of his veteran teammates.
"Mike (Weston) always tells me to think positive, and you will get positive results. So I'm going to work on that, not worry so much and have some confidence in myself. I know I can play well," Gunderson said.
A year ago, the Sailors hosted the state tournament at Haymaker Golf Course. Weston and Taylor were members of the team that finished sixth in the team standings.
"I'm just hoping our players can stay loose and stay focused," Dodson said. "This is a great opportunity for these young players, but the most important thing is that they go out and have a good time."
The coaches expect the Broadlands course to be different from the tight, technical Conquistador course where the Sailors played the regional tournament.
"I hear it's fairly long and there's a lot of water," Berry said. "But I just want to see these kids go out and play to the best of their ability. I'm sure they will make us all proud."