Friday, September 28, 2007
2007 Sailors Football
* -- State playoff game.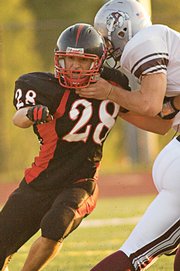 If you go
What: Steamboat vs. Moffat County football
When: 7 p.m. today
Where: Gardner Field, 45 Maple St.
Radio: AM 1230
Last year's game
Steamboat 21, Moffat County 9
Steamboat quarterback Tanner Stillwell found Jace Bonner on a 48-yard touchdown strike as the first half ended to put the Sailors up for good. Jay Hanley rushed for 132 yards after missing the previous two weeks because of injury.
League standings
Palisade, 4-1 overall, 3-0 in the Western Slope
Glenwood Springs, 4-0, 2-0
Rifle, 3-1, 2-1
Eagle Valley, 3-1, 1-1
Steamboat Springs, 2-2, 1-1
Moffat County, 2-2, 1-2
Delta, 1-3, 1-2
Battle Mountain 1-3, 1-2
Cortez 1-4, 0-3
Season statistics
First Downs 46
Rushes-Yards 141-492
Comp-Att-Int 41-61-3
Yards Passing 493
Total Yards 985
Punts-Avg. 19-42
Fumbles-lost 13-7
Penalties-Yards 19-120
• Score by quarters
Steamboat 07-10-33-24-74
Opponent 35-30-16-29-103
Individual statistics
• Rushing
S: Jay Hanley 64-289, 1 TD; Nigel Hammond 33-144, 3 TD; Fraser Egan 5-7; Austin Hinder 36-71.
• Passing
S: Hinder 40-60-3, 482 yards, 5 TD; Alex Wood 1-1-0, 11 yards.
• Receiving
S: Cody Harris 9-113; Hammond 11-176, 3 TD; Hanley 4-42; Ben DeLine 2-13; Egan 1-4; Matt Lettunich 6-54; Wood 5-69, 1 TD; Cole Krahenbuhl 1-11; Hinder 1-11.
• Defense (tackles-sacks)
S: Hammond 60-1; Harris 31-2; Kevin Stokes 31-0.5; DeLine 34-1; Lettunich 34-2; Cole Krahenbuhl 20-0; Mac Marsh 25-4; Egan 21-0.5; Graham Geppert 16-0; Hanley 15-3; Wood 9-0; Jasper Gantick 6-0; Carl Steele 2-0; Andrew Houk 2-0.
Steamboat Springs — As Steamboat Springs High School football coach Aaron Finch marches into the Sailors' contest with Moffat County, at 7 p.m. today at Gardner Field, it's fair to say he's found his equilibrium as an offensive play-caller.
Through four games this season, Steamboat's offense has produced 492 yards on the ground and 493 yards through the air.
With the season progressing into the crucial Western Slope League schedule, that balance has made Steamboat - 2-2 overall, 1-1 in league play - tough to defend.
"Isn't that amazing?" Finch said of the stats. "Obviously it's been different depending on the game. That's about 250 yards a game, but it's still about 100 yards short of where we want to be."
Moffat County (2-2, 1-2) is coming off two consecutive losses to league opponents, but when it comes to the Steamboat-Moffat County rivalry, numbers equal zilch. Rankings don't mean anything. And whoever is supposed to win, usually doesn't.
Just look at the numbers.
In the past four years the two teams have split the series, 2-2, the home team is 0-4 and both teams have a win in overtime.
"I don't think it's that hard for either of us to get fired up," Moffat County coach Kip Hafey said. "It's an old rivalry game that the kids always look forward to. It's just a fun game."
This year, the rivalry match-up is even more interesting because of potential playoff implications.
With both teams having one win in the conference - and games against league bullies Glenwood Springs and Rifle ahead of them - a win tonight will go a long way toward a spot in the playoffs.
"I think, week-in and week-out, this league is so tough," Hafey said. "It's huge. Really, if you don't win here, you almost have to win out. But at this point, every team controls its destiny."
The Bulldogs come into the game a battered unit, missing seniors Travis Wilson on the line and J.T. Haddan in the backfield.
Haddan - one of the Bulldogs' top offensive weapons at fullback - injured his knee against Palisade and is expected to miss the rest of the season.
But Finch knows the Bulldogs' offense isn't one a coach can sleep on. Even without Haddan, Moffat County has shown a diverse attack that's thrown the ball 20 times one game, then just four times the next.
"Their backs run hard, and the quarterback (Jake Bricker) is dangerous with his feet," Finch said. "Offensively, they still have a lot of weapons. Haddan was a force with his size and strength, but he wasn't their only athlete."
If one team has an advantage, it might be Steamboat. The Sailors are playing at home and are coming off a bye week when they were able to rest some injured players.
Still, when it comes to rivalries as thick as this one, it seems one team never has an advantage, Finch said.
"When you look at the two teams, it's hard to pick a favorite. Both of us have had our good games," Finch said. "It's one of those things where it's going to come down to who makes a couple of those big plays offensively or a couple of those big plays defensively."