Tuesday, September 25, 2007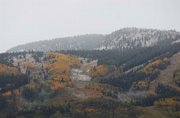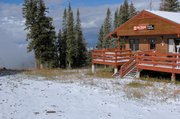 Steamboat Springs — It doesn't take more than the season's first dusting to fuel excitement for a Steamboat Springs winter.
Residents awoke Monday to a thin, white blanket on the upper reaches of Mount Werner. The snow won't stick around more than a day or two, but it was a sure sign that Routt County's best-known season is quickly approaching.
The snow that fell at the top of the Steamboat Ski Area on Sunday night and Monday morning was the result of a strong Pacific storm moving through the northern and central Rocky Mountains, said Chris Cuoco, a senior forecaster with the National Weather Service's Grand Junction forecast office. That system also brought prolonged periods of rain during the past several days.
Freezing overnight temperatures pushed the snow level down to about 8,500 feet, Cuoco said. He predicted periodic snow showers Monday night before a drying trend takes hold today and persists throughout the remainder of the week. However, overnight temperatures are expected to remain below freezing tonight and Wednesday night. Daytime highs will reach into the upper 60s by Thursday.
Heidi Thomsen, a spokeswoman for the ski area, said the sight of snow atop Mount Werner couldn't have come at a better time.
"We're definitely excited," Thomsen said. "It's really the kickoff to the $16 million in improvements. Everything's falling in place."
Opening day at the ski area is Nov. 21 - less than two months away.
Of course, the quantity and quality of snow that greets skiers and riders on Day 1 of the 2007-08 season remains to be seen.
Norv Larson, a meteorologist with the National Weather Service, said long-range weather forecasting models predict above-normal temperatures for the Steamboat area through February. The models show an equal chance for above-normal, normal and below-normal precipitation.
"On the plus side, the Steamboat mountain always seems to do pretty well," Larson said.