Sunday, September 23, 2007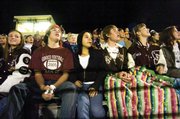 Routt County — The South Routt and Hayden school districts are not enjoying the growth in student population that is filling classrooms in Steamboat Springs - and the loss of students is costly.
South Routt Superintendent Kelly Reed said this week that the district's enrollment has dipped about five students this year, to a total of 403. With the loss of each student, the district gives up about $8,200 in per-pupil operating revenue from the state Department of Education. That's about $41,000 in state funding lost this year. Since 1998, the South Routt School District has lost 45 students - and more than $344,000.
"In a small district like ours, the loss of each student's (state funding) is very important," Reed told the Routt County Board of Commissioners on Tuesday.
Since South Routt enrollment peaked at 450 students in 1997, and then began a steady decline, the district has removed six full-time teaching positions. A woodworking class is gone. In November, the district will ask South Routt voters to approve a mill levy override of three mills - in other words, a property tax increase - to generate an additional $360,000 per year for district needs, including new boilers.
And while state funding for South Routt schools is decreasing, Reed said the district's medical expenses are up 18 percent during the past three years, retirement plan expenses are up 3 percent, and fuel and snow removal costs have doubled.
"Basically, it is costing the district more to operate than revenues allow," Reed said. "This year, we were down just a smidgen in (student) count : We hoped to be up a little bit, but we had a huge graduating class last year for our district - over 40 kids - and so we are down."
But that trend could change. Reed noted that this year, elementary school enrollment is up by 10 students.
"If current trends continue, we'll see an increase in the younger families in South Routt," he said. "Hopefully these families will stay and move all the way through the system."
Hayden also struggling
On Tuesday, acting Steamboat Springs Superintendent Dale Mellor told county commissioners that enrollment is up significantly more than projected.
"Our student count is up, and I'm still adjusting the numbers, but it looks to be about 40 kids," Mellor said. "They are people who are moving in from out of the area."
Hayden Superintendent Mike Luppes said Steamboat's problem is one he'd like to have. Enrollment in Hayden schools has decreased by nearly 130 students since 1998.
"We had a couple of really big drops between 1998 and 2000, but the last two or three years our drops have been pretty stable," said Luppes, who noted the district's K-12 enrollment this year is 417.
"That's actually more than we had projected at 409," he said.
Luppes said the district has not cut academic or extracurricular activities in the past three years, but further decreases in enrollment may force the district to do so.
"We can't ask taxpayers for any more money because we are maxed out on our mill levy," he said, referring to state limits on tax increases - limits that South Routt school officials will ask voters to waive, or override.
"We'll have to find other ways to save money," Luppes said.
Luppes attributed Hayden's declining enrollment to a number of factors, including students going to Steamboat schools. But he said the biggest factor is that there are fewer families with children in Hayden.
"We've had construction and building in our area for a while now," he said. "This is a conversation we have had the past three to five years : that we will soon see that reflected in our student count, but it just hasn't happened. There just aren't as many kids in the community."
- To reach Mike McCollum, call 871-4208
or e-mail mmccollum@steamboatpilot.com