Friday, September 21, 2007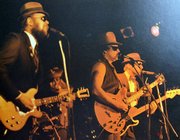 Past Event
Saturday, September 22, 2007, 9 p.m.
Old Town Pub & Restaurant, 600 Lincoln Ave., Steamboat Springs
Not available / Free
Steamboat Springs — As a way of explaining what live music was like in Steamboat Springs 30 years ago, Rick Bear slides a yellowed bar tab across the table.
In one night, Bandanna, the country rock group Bear played guitar in, had racked up 20 beers, 12 shots and four mixed drinks. The band paid half price, and the entire tab was for $23.
"This is indicative of the kind of fun we had onstage," Bear said. "It was the funnest band I've ever played in."
From 1977 to 1984, Bandanna was the bar band for the Clock Tower bar, which has since been converted into condominiums. On Saturday, the band will reunite for a night of classic rock, bluegrass and country standards at the Old Town Pub.
Over lunch a week before the gig, the band's four members - Bear (guitar and banjo), Joe Ghiglia (guitar), Chris Koebnick (bass) and Don Fagre (drums) - talked about the good ole' days, when the drinks were cheaper, the music was worth playing and the dancing was inevitable.
"This was the wild and wooly days of Steamboat music, because there was a lot of good music in town - good live music," Bear said.
The members of Bandanna finish each other's sentences, made fun of their one-time beards being replaced by current baldness and jovially censored themselves while reflecting on how much fun they had.
"Bands are funny. Usually you've got one or two of the people in the band that are kind of weird or have an ego. But we just really hit it off onstage, and the crowd picked up on it," Bear said.
When they played the Clock Tower bar, the crowds drank Bud like fish on a bender. When they played Oak Creek's Colorado Bar & Grill for "boogie night" on Thursdays (the bandmates joke that ranchers called it "hippie night"), the floor dipped a good foot in the middle under duress of dancing feet.
Bandanna both kept with the times and bucked against them.
"It was tough. At that time New Wave music was coming out," Ghiglia said, explaining the musical climate.
The rest of the band, who in unison express their distaste for the topic, interrupts him:
"DISCO."
Unfazed, Ghiglia continued, "So we did what we called cow wave or chunk rock." Neither of those styles was particularly explained.
Negatives and prints of the band's members from its early days are hard to come by, Bear said. This met with an immediate response from Koebnick: "You owned a photo shop."
Bear explained that he did own a photo shop, but that he doesn't know where most of Bandanna's photos went. What he does have are most of the band's original song lists.
"It's like the Dead Sea Scrolls," he said, as the band joked that there's no way a 22-year-old reporter would know most of the songs on the list.
The joke is only partially true, and the set list is studded with standards most anyone would recognize: "Desperado," "Proud Mary" and "Lady Madonna" among them.
Being in a band that mostly played bars and parties - and that mostly had a blast doing that - did have its occupational hazards, at least the way Bandanna tells it. Ghiglia lost three teeth from boozy crowds pushing a microphone into his face, and Koebnick found himself laughing so hard at one gig that he popped a muscle in his chest.
For the reunion show, Bandanna hopes to see all the people who made their shows what they were, even if that was before development booms and jam bands took over the mountain.
"We expect to see a lot of old relics out - people who maybe would like to get out and see if their dancing legs still work," Ghiglia said. And if any of those relics were part of Bandanna's core fan base, they've got something to live up to.
"We actually prided ourselves on holding the bar tab record, not for us, but for the people who came to see us," Ghiglia said.
"We held the records for probably five bars in town, for the highest gross," Bear said.
It's comments like that one that lead to an inevitable observation, coming from Koebnick but hinted by everyone:
"Most of the stories we've got are stuff you couldn't put in the paper."