Friday, September 21, 2007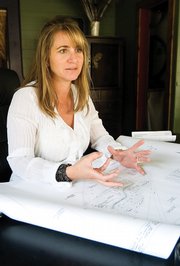 Oak Creek — After a lengthy and impassioned Oak Creek Planning Commission meeting Wednesday, developer Heather Kline was left with two options for her Darling Annexation proposal: come back with current construction costs and make another presentation to the Planning Commission, or leave nearly two years of work behind.
Kline, who lives in Stagecoach and owns Lynx Funding in Oak Creek, was hoping the Planning Commission would approve a revised conceptual plan for the annexation, and then recommend it for approval by the Oak Creek Town Board.
But while Planning Commission members expressed support for Kline's proposal, there are several kinks the commission wants to iron out before moving the project forward.
The commission asked Kline to update her project's construction costs, conduct geological, elevation and other soil surveys, and correct deficient paperwork before coming back to the commission Nov. 14.
Kline said she was reluctant to spend the tens of thousands of dollars it would cost to complete such surveys before knowing whether the town was on board.
"Before I move forward and spend an additional $50,000 or $75,000, I want to make sure this is what the town wants," she said.
Kline and her sister, Jennifer Darling, proposed a 24-acre annexation that would put as many as 17 affordable homes on a parcel of land north of town. The 1,000-square-foot homes would sell for between $215,000 ad $315,000, Kline said. While Kline was confident she could have the homes built for that amount of money, she recognized that building costs could rise in the near future if the project continues stalling.
Commission member Tom Bleuer said the town could not guarantee either of Kline's proposals would ever be approved.
"It's a gamble," he said. "The (Town Board) can always say no."
Kline's proposal, which was in its second form Wednesday, was first proposed about a year ago and received opposition from the Town Board, because the proposal was to develop a plot of land outside of the town's designated growth area.
Since then, the town has decided to update its comprehensive plan to reflect how the town wishes to grow, including changes to growth area boundaries. The comprehensive plan was last updated in 1997. It is used as a guideline and is not regulatory, Planning Commission Chairman Chuck Wisecup said.
On Wednesday, Kline said her second proposal for the annexation differs from the first because she is proposing to build actual homes on the lots to encourage young families to live, work and play in Oak Creek. The first proposal was for lot sales only. Kline said her second proposal would give young families an opportunity to own a home, invest in the town, fill South Routt School District seats and potentially open businesses in Oak Creek.
Kline said she has brought a second proposal to the town after incorporating months of feedback from the town and community.
"We really do want to provide what's best for Oak Creek," she said.
Wisecup admitted the process Kline has gone through has been "out of the normal process of things," but encouraged her to come back in November.
Commission member Jerry Greenwood agreed.
"I'm optimistic you're going in the right direction," he said. "I'm a realist - there'll be a lot of heckling as we go along - but I'm optimistic with your presentation."
-To reach Alexis DeLaCruz, call 871-4234
or e-mail adelacruz@steamboatpilot.com