Thursday, September 20, 2007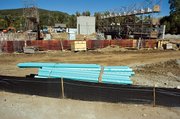 Steamboat Springs — The foundation for a new Soda Creek Elementary School has been laid, but building officials say what's even more exciting is that the project is on schedule and under budget.
"It is fair to say it is a few days ahead of schedule," project manager Todd Ficken said Wednesday. "The walls you see going up are the stairwells of the school, and next week, the elevator shaft is going up. The underground electrical is going in, and the plumbing is in. Overall, it is going well."
He said work is complete at the temporary school facility built to house Soda Creek students while their new school is constructed.
School Board President Denise Connelly told Routt County Commissioners on Tuesday that "Camp Soda Creek" has come together better than anyone had hoped.
"I have to say that my kids enjoy the modulars currently more than they did the old classrooms," she said.
On Sept. 11, Ficken presented an updated list of "value engineering items" that could be cut or scaled back from the Soda Creek and Strawberry Park elementary school projects without affecting the school district's educational mission.
Ficken said Wednesday that the 31 cuts, which included eliminating small entrance canopies, replacing stainless steel countertops with laminate and installing cheaper light fixtures, saved about $300,000.
"We wanted to get it across to the community that we don't have an unlimited bank account," he said. "But I think we have done very well on the budget."
Work to construct a 10-classroom addition to Strawberry Park also is on schedule, despite a month-long delay in beginning the project.
"We are tracking well at Strawberry Park, and we'll have storm drainage done before winter," he said.