Monday, September 17, 2007
Past Event
Tuesday, September 18, 2007, 5:30 p.m. to 8:30 p.m.
Depot Art Center, 1001 13th St., Steamboat Springs
All ages / $20 - $25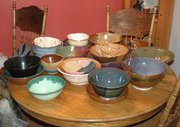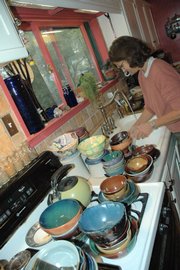 Steamboat Springs — No two snowflakes are exactly alike, and the adage holds true for the soup bowls created by the Steamboat Clay Artisans for Tuesday's Soup Bowl Supper.
"We have about two dozen potters involved in this, and some of them have been doing pottery for 20 or 30 years," said Deb Babcock, one of the organizers for the annual fundraising event.
"There are some absolutely beautiful glazes," she said. "They are all going to have different shapes. Some will have rims, some will be tall, some short, some flat - they are all different. Truly handmade works of art."
About 300 bowls were made for this year's event. On Tuesday, the bowls will be filled with soups, breads and desserts donated by local restaurants. There also will be a silent auction for other clay creations from the members of the guild.
"We have people who come every year so they can add another bowl to their collection," said Babcock, who owns Blue Sky Pottery. "Most of the bowls this year were thrown on a pottery wheel. There are a few that are handmade."
All bowls are dishwasher, microwave and food safe, but she said what makes them unique is that they are a culmination of everyone's talents. Between one and five people worked on each bowl during a two-day period.
The bowls go through two firings. The first firing takes approximately seven hours at 1,800 degrees. The second firing, after artists apply colorful glazes, is at 2,200 degrees.
"After it's fired for the last time, we don't even know whose is whose," said Kathy Thayer, who on Sunday met three fellow potters at Barb Gregoire's house in Milner to wash bowls.
"We try to mix them up with different styles in each box - masculine and feminine, and different glazes," said Sue Binsfeld. "We want the selection to be diverse so no one is left with a scrubby one."
The supper will have two seatings - at 5:30 and 7 p.m. All of the money raised this year will be donated to Steamboat Mental Health Clinic. Steamboat Clay Artisans has donated almost $30,000 to local nonprofit organizations since the inception of the event.
"The (mental health) clinic's application said the money is needed to fix up and remodel their waiting room," Babcock said. "There is no kid-sized furniture. It will spruce it up and brighten it up."
Babcock noted the event has changed venues this year from the Steamboat Springs Community Center to the Depot Art Center.
"It's about giving back to the community, but the most fun is when people come in and pick out a bowl," Gregoire said. "You can see they get really excited, and it's nice as an artist to see people appreciate your art."
- To reach Mike McCollum, call 871-4208
or e-mail mmccollum@steamboatpilot.com