Sunday, September 16, 2007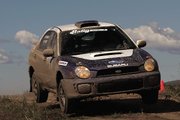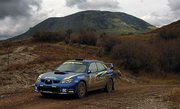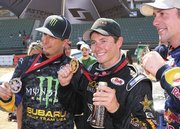 Key Rally Colorado events
10 a.m. to 4 p.m. Friday, Cook Subaru Technical Inspection, Cook Chevrolet-Jeep-Subaru
5:30 to 7:30 p.m. Friday, Central Park Liquor Welcome Reception, Parc Expose (Car Show) and Ceremonial Start, Sixth Street and Lincoln Avenue, Steamboat Springs
8:01 a.m. Saturday, first car out Day 1, Steamboat Springs rodeo grounds
5:30 p.m. Saturday, first car in Day 1, Steamboat Springs rodeo grounds
6:15 to 8:30 p.m. Saturday, Miller Lite Post-Race Rally Car Display, Old Town Pub
8 p.m. Saturday, Miller Lite Video Show, Old Town Pub
8:31 a.m. Sunday, first car out Day 2, Steamboat Springs rodeo grounds
4:03 p.m. Sunday, first car in Day 2 and champagne toast to event winners, Steamboat Springs rodeo grounds
If you don't go
ESPN2 will air its Championship Coverage of Rally Colorado and the final Lake Superior Rally from 4 to 4:30 p.m. Nov. 20.
If you go
Fans interested in watching the free Rally Colorado race-day events should consult the Rally Colorado 2007 Spectator Guide, available at www.rallycolorado..., for mileage, directions, safety reminders and specific arrival times at the five designated spectator areas, or they can go to the fan-friendly central Hayden Service Area and main spectator area at the Routt County Fairgrounds complex in Hayden.
One of the best spots to check out the action is the SuperSpecial Spectator Area at the West Routt Fire Protection District training site, south of the fairgrounds on Routt County Road 53. Here, racers will rip two laps around a special .97-mile stage featuring a jump in front of the spectator area. Fans need to arrive before 1 p.m. Saturday and before noon Sunday.
Steamboat Springs — There's just no race out there that lets the country's best drivers go as fast and take as many chances as Rally Colorado.
The eighth of nine Rally America Championship Tour events returns Sept. 21 through 23 for its fourth year as a national-level rally to the ball-bearing slick county roads surrounding Hayden. The roads guarantee fast times on the 18-stage, 110-mile course and plenty of rally car carnage.
"It's real jumpy and the fastest rally - it doesn't have trees," Travis Pastrana explained of his 2005 run - one that ended with an overshot 115-mph turn that totaled his car after eight flips. "Like how skiing a slope with trees is scary; this race is fun trying to be aggressive because it's open and it feels safer, so you push farther."
Even Tanner Foust, who took gold last month at X Games 13 head-to-head Rally Car Racing Super Special, has trouble with the course. And this is his home course, too - he moved to Steamboat to instruct at the Bridgestone Winter Driving School and got hooked on rally car racing after getting his licks at the 2003 Rally Colorado, which was then called the Colorado Cog Rally.
"The speeds on this rally are phenomenal. You're at over 100 mph for a few minutes at a time," Foust said. "You can get drawn into the beast because you get overconfident with the lack of obstacles."
But with rally racing, Foust knows many factors - including weather, the never-before-seen course that rapidly unfolds, the co-driver's constant stream of coded directions and basic car mechanics - can contribute to a rally finish and even a win.
Last year, as Foust led the open class by more than a minute heading into the race's final stage, the biggest factor was mud.
As his car was carrying an estimated few extra hundred pounds of Routt County muck, Foust hit a small bump on a turn and his rear suspension failed, kicking his car's rear up and off a steep 35-foot pitch.
"We went from 75 mph to zero, hitting the ground like a lawn dart," Foust said. The vehicle then rolled twice into a fence.
The crash totaled Foust's vehicle and ended his 17-rally streak without a Did Not Finish. Pastrana went on to win that rally.
The wreck also renewed Foust's desire to represent his former stomping grounds.
"Doing well at what is seen as my 'home event' is important," Foust said. "With my Production GT background (he won its national circuit in 2005), I'm used to not having all the horsepower at altitude, and I'm used to the style of the roads. I'd like to represent for Colorado rally drivers and Steamboat."
Numerically, Foust's hopes for an overall series win ended after a rock shot through his front axle and CV boot at the last Rally America event in Bemidji, Minn. Foust again had the lead with five miles to go, but when the CV joint grease ignited, Foust barely got the car to the finish, still on fire.
The 14th-place finish bumped Foust back to fourth overall in the national championship standings. So, now, a team win is on the line with only the Lake Superior Rally, Oct. 26 and 27, left after Colorado. Foust's Syms Racing teammate, Australian Andrew Pinker, currently leads the Subaru Rally Team USA tandem of Pastrana in second and Ken Block in third.
"I'm fighting for the podium overall now," Foust said. "But the better I do as a point spoiler, the better chance Andrew has of winning it overall."
Foust, 34, and co-driver Chrissie Beavis hope to earn that when the racers head out in their open class Subaru WRX STI on Saturday morning.
And what exactly will it take to win?
"If you react rather than respond, you're behind," said Mark Cox, Winter Driving School director, avid Rally America racer and Rally Colorado co-founder with Jim Gill. "Every surface is different and constantly changing, and (the course) is totally blind to the drivers. It takes every bit of skill the driver and co-driver can muster."
The weekend event includes two other rally races as well: Saturday's 10-stage, 69-mile Middle Cog-1 Regional Rally and Sunday's 8-stage, 41-mile Middle Cog-2 Regional Rally. Both are Rally America points events in the Western States Rally Championship and Southwest RallyCup series. The cars, all street-legal production vehicles, will be divided into six classes ranging from stock to highly modified.
Since its humble beginning as a regional rally in 2001, Gill, the event's chairman, has updated the growing race - with 35 to 40 teams, this year's is the largest to date - with a new "Rally Colorado" name, image and logo. He hopes to keep drivers such as Foust and Pastrana hungry to return to what he said provides "America's finest performance rally experience for competitors, spectators, volunteers and sponsors."