Friday, September 14, 2007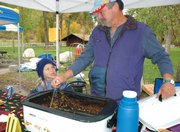 Steamboat Springs — On Saturday, Kristin Cronin will put her white chicken chili to the test.
She doesn't have a recipe - the cooking is instinctual - but she does have a good story: the idea for the dish comes from her days as a personal chef for Mitt Romney, a Republican presidential candidate and former governor of Massachusetts.
"I did all their family cooking, and one time his wife had me follow a recipe for a white bean chili. I'd have to say the basis came from that," Cronin said.
In its second year, the Chili Challenge portion of the Downtown Hoedown will host about 30 competitors Saturday.
The Chili Challenge is bookended by the 20th annual Rubber Ducky Race and the fourth annual Festival of the Americas. Duckies will take to the Yampa River from the 5th Street Bridge at 10 a.m. and float to 13th Street, where their owners will find music, dancing, food vendors and chili at 11 a.m.
Participants in the ducky race will be vying for nearly 200 prizes, including an adult season ski pass. Race organizer Kathy Ulmer said she hopes to sell 2,200 tickets, with proceeds benefiting the Yampa Valley Medical Center. Tickets can be purchased from noon to 6 p.m. today at Safeway and City Market, and on Saturday at the race site until 10 a.m.
Two days before the cook-off, several competitors were already formulating plans of attack. Chili connoisseurs spent time buying the meat, beans, tomatoes and vegetables needed for their required 3 gallons of chili - which can be entered in red, green, firehouse or other categories.
Representing F.M. Light & Sons, Michael and Michelle Botnick had already started prepping a "Lightning Hot" green recipe Thursday morning. Emily McArdle, who will be serving the Botnick's finished product at the challenge, said the couple has been cooking chili together for 30 years. She estimated about six hours of chopping time for all the ingredients, followed by about 12 hours of simmering.
The Hoedown started three years ago as a celebration for the F.M. Light & Sons centennial. Tracy Barnett, executive director of Main Street Steamboat Springs and last year's Hoedown organizer, said the chili challenge was a natural addition because most successful outdoor events include food. And there were plenty of people making chili to support the challenge, which drew about 500 people last year despite rain and cold weather.
The event follows in the tradition of a hoedown, Barnett said - after a season's worth of hard work, it's time to put the tools down and have a party.
"We've all worked hard all summer and it's been a busy time. It's time to take an afternoon off and do something fun as a local event," she said.