Thursday, September 13, 2007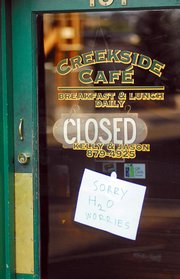 Steamboat Springs — A water line break and resulting ban on water use on the west side of Steamboat Springs forced the closure of numerous businesses Wednesday. Many local workers became part of the effort to respond to the water ban.
Restaurants such as Creekside Cafe and Grill, Old West Steakhouse and Pisa's Pizza & Pasta were all closed Wednesday. Hilltop and Auto Suds car washes were also closed. Snow Bowl was open, but closed its restrooms and would not serve food. The Kum & Go and 7-Eleven convenience stores were open, but had no coffee drinks, tea, fountain drinks or restrooms available.
Bamboo Market and Double Z restaurant, while on the west side of 11th Street, were allowed to stay open because the block they are on is not served by the water line that was broken.
At Lucile's restaurant, no food was being served, but managing partner Mary Wolf kept the doors open for people to come in and sit in air conditioning and listen to the rehearsal of an upcoming musical act at the restaurant. Wolf was upset about losing a day's worth of business.
"We're suffering, obviously," Wolf said. "We can't do our business because of someone else's fault."
A construction contractor broke a water main Tuesday afternoon at the Bud Werner Memorial Library construction site, leading to the emergency no water use order issued Tuesday evening. The water main was repaired and pressure restored Tuesday, but the water could still be contaminated. City officials are asking that no water, even boiled, be used for any purpose, including brushing teeth, showering or flushing toilets. The ban may be lifted this afternoon, pending the results of bacteriological tests on water samples.
With some exceptions, the affected area is from 11th Street west to the city limits.
Wolf said she expects the construction contractor, Adolf-son & Peterson Construction, to compensate her for lost business.
Mark Tarzian, owner of Windemere Landscape & Garden Center, said he wasn't able to water any plants all day Wednesday. Tarzian said he would wait to see what happens today before possibly ordering a bulk shipment of water.
"If we don't have water tomorrow, it could be a problem," Tarzian said Wednesday.
Local economist Scott Ford said it would be difficult to quantify the effect the water ban has had on the local economy, but said it highlighted the importance of public infrastructure for businesses. He also said the water line break could have come at a worse time.
"If it's going to happen, better now than July," Ford said.
The Routt County Jail is also in the affected area.
"It's affecting us at the jail, just as it is everybody," Sheriff Gary Wall said. "It's a little more work for us, but nothing we can't handle."
Wall said portable toilets were erected outside the jail and meals were being catered by local grocery stores to feed the approximately 20 inmates in custody.
The portable toilets at the jail are among the 175 pieces of equipment supplied by Royal Flush Industries and Aces High Services.
Owner Steve Weinland said he thought City Clerk Julie Jordan was kidding when she called him Tuesday night as he was going to bed and told him about the emergency.
"It's been an interesting 24 hours, I can tell you that," Weinland said Wednesday.
Weinland said nine of his employees and four truck crews installed 132 portable toilets within three hours Tuesday night. As hard as that was, Weinland said the hard part is ahead, when everything has to be cleaned up.
Weinland said his company had all of the equipment, which includes sanitary wipe dispensers as well as toilets, on hand. He said he hopes the ban is lifted in time for reservations he has on some of the toilets for this weekend. If not, he said those customers would have to be disappointed.
"This is the priority," Weinland said.
Kevin Kaminski of B & K Distributing said his company sold the city all of the water it had in stock, which amounted to several hundred cases. Although the city has not specified how its costs will be covered, Kaminski and Weinland said they expected Adolfson & Peterson to pay for the services the businesses provided.
Holiday Inn General Man-ager Barbara Robinson also chipped in, making one of the hotel's rooms available for anyone needing to shower. Robinson said the hotel would keep the room available 24 hours a day until the water ban is lifted.
"You just have to help," Robinson said. "We're a part of this community and it's the right thing to do."
- To reach Brandon Gee, call 871-4210
or e-mail bgee@steamboatpilot.com