Wednesday, September 12, 2007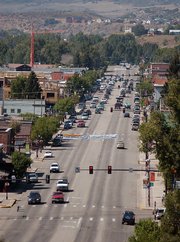 Steamboat Springs — The Routt County Board of Commissioners pledged more than $14,000 worth of support Tuesday for efforts to improve downtown Steamboat Springs.
The money will go to the Downtown Steamboat Springs Business Improvement District, provided voters in November approve a property tax to fund downtown improvements and beautification. The commissioners' decision comes a week after a meeting with business district and Main Street Steamboat Springs officials to discuss the district's proposed budget.
Routt County Commissioner Nancy Stahoviak said the $14,375 contribution is a reflection of the county's interest in supporting the district's effort to address parking issues, beautification projects and advocacy work.
"The county is committed to the enhancement and vitalization of the downtown Steamboat Springs area," she said during a hearing Tuesday. "It really does show that we want to be a partner in what happens in downtown."
The Steamboat Springs City Council officially formed the business improvement district in June. Its boundaries run from Second to 13th streets, between Yampa and Oak streets. Only property and business owners living within the district's boundaries are eligible to vote on the proposed property tax, because only those owners would pay a tax for improvements in the area.
The county opted to make the contribution because, as a government entity, the county's downtown property would not be subject to the property tax if it passes.
The $14,375 contribution was based on assessing a 2 1/2-mill levy on the county's downtown properties, including the Routt County Courthouse and Annex, Routt County Human Services building and two other houses. The money would come from the county's community services budget.
Commissioner Doug Mon-ger said the board is not bound to the contribution past 2008, and has the ability to discontinue the contribution in the future. Future boards also could discontinue the contribution, he said.
Tracy Barnett, executive director of Main Street Steamboat Springs, said Tuesday from a conference in Pueblo that she was glad the county has agreed to help fund the district.
"We're pleased they've chosen to participate," she said. "It gives the downtown effort credibility."
The district originally asked for a $25,000 contribution from the county, which was a "fair and arbitrary" number, she said.
Bill Moser, chairman of the district, also was at a conference Tuesday and was unavailable for comment.
At a previous meeting with the commissioners, Moser said he hoped the mill levy would generate as much as $130,000 to promote special events, develop marketing and beautify the downtown area.
"We're trying to make downtown a destination not only for our visitors coming into town but to draw people from the mountain, which is always a challenge in the winter," Barnett said. "The downtown commercial district is the heart and soul of this community. It's important to preserve that and keep it viable."
-To reach Alexis DeLaCruz, call 871-4234
or e-mail adelacruz@steamboatpilot.com