Monday, September 10, 2007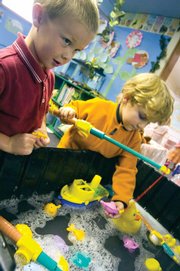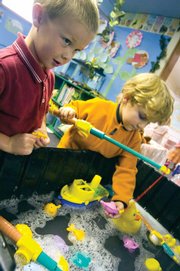 Steamboat Springs — Three Steamboat area preschools have earned top ratings in state evaluations.
Holy Name Preschool, GrandKids Child Care Center and Discovery Learning Center all received four stars, the best possible, in the Qualistar ratings.
Little Bear Child Care, an early childhood education center that operates out of Tracy DelliQuadri's home, also received four stars.
Qualistar is a state organization that evaluates and rates preschools. The ratings are from evaluations conducted in the spring.
Stephanie Howle, director of First Impressions of Routt County, an early childhood council that coordinates various family resources in the area to encourage collaboration, said early childhood centers in Routt County must agree to Qualistar evaluations for licensing.
"Licensing is the minimum requirements to legally take care of kids, so the Qualistar ratings scale is to go above and beyond licensing," said Howle, who noted that any rating of two or higher is great, and three four-star facilities is exceptional. "This is our tool to go back and show funders that because of your support, these programs are either increasing or maintaining their quality."
Qualistar gives a four-week window during which its evaluators will visit preschools, but instructors and children don't know exactly when. The evaluators spend a day in each preschool room, scoring everything from health and safety standards to the ratio of children to teachers.
"The star rating system really helps parents to know really the value they are getting for their tuition," said Tami Havener, executive director of the Discovery Learning Center, which received a four-star rating. "If they are at a four-star place, it's probably more expensive. There is a value for their money, because of the four-star rating."
Centers are evaluated in five categories: learning environment, family partnership, training and education of work staff, adult-to-child ratio and group sizes, and whether the center is nationally accredited.
Howle noted there are no publicly-funded preschool programs in Routt County, but there are some public funds available through First Impressions to help pay for early childhood development.
"First Impressions struggles to work with accessibility and affordability in this area," she said. "We do have quality centers in place, and they are being monitored, and they are being held accountable, and we receive funding to be able to pass onto them to help them maintain and increase their quality : I just wish we can find a way to open up more slots."
DelliQuadri, whose center just opened in September 2006 but already has earned four-star status, described the early childhood education in Steamboat as in "a state of crisis."
"There are just not enough options for families in this area," she said. "I have a degree in early childhood education, and most of us are having a hard time making a living in this town. This isn't day care, I'm a teacher : it's definitely guided learning with a focus."
Havener noted that most early childhood education teachers make $10 an hour, despite the perception that the centers charge inflated fees.
"It's an expensive business to operate," she said. "About the only revenue stream from operation is through parent-paid tuition. It's a huge chunk of families' household budgets. Yet teachers still typically make between $20,000 to $25,000 per year."
For a detailed, free Qualistar report of all Routt County early childhood education centers, visit qualistar.org or call (303) 339-6800.
- To reach Mike McCollum, call 871-4208
or e-mail mmccollum@steamboatpilot.com