Sunday, September 9, 2007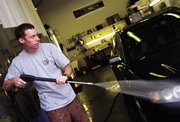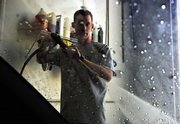 Steamboat Springs — When Travis Benzing traveled to Seattle last month to help restore a collection of airplanes at the Museum of Flight, it wasn't just an opportunity to preserve history. It also was a smart business decision.
Benzing, who opened Steamboat Detailing in 2002, said the two days he spent in Seattle were valuable as a way to network with top detailers around the country. The trip also rekindled an interest in possibly expanding his business to include airplanes.
Benzing volunteered his time to join a team that helped restore six national aviation treasures, including the first Air Force One. The presidential plane is a Boeing 707-120 that was known as SAM - Special Air Mission - 970. The plane was delivered to President Eisenhower in 1959 and also flew presidents Kennedy, Johnson and Nixon. SAM 970 stayed in the presidential fleet until 1996, providing an airborne home primarily for VIPs and vice presidents.
Benzing said it was a pleasure "to preserve such a unique piece of history." Benzing was invited to join the team by Renny Doyle, owner of Sun Valley, Idaho-based Attention to Details. While Doyle's employees constituted most of the restoration team, Doyle invited other respected detailers from around the country - including Benzing. The two had met before at trade shows and business conferences.
Doyle said Benzing performed some of the project's most challenging work during his two days in Seattle.
"He impressed me so much," Doyle said. "He came through with flying colors."
Benzing formerly worked at a BMW dealership in Indianapolis and Mountain View Car Wash in Steamboat before opening his own shop. He said his trip to the Museum of Flight was the first time he has worked on airplanes, although he has in the past considered starting an airplane detailing business to join his auto business. Benzing said significant hurdles - such as a bare minimum of $12,000 in
insurance a year - have always quashed that idea. But working on planes in Seattle renewed his interest.
"It's something I'll look into pursuing in the next year or two," Benzing said. "As the town gets bigger and bigger and more jets come in, it will become a more viable option."
Benzing may face even more significant hurdles than costly insurance. To detail airplanes in the Yampa Valley, Benzing would need facilities at Yampa Valley Regional Airport in Hayden or Steamboat Springs Airport on Routt County Road 129.
Frank Hogue, chief financial officer of Spectrum Jet Center, the fixed-base operator at Yampa Valley Regional Airport, said his company has wanted to hire an airplane detailer but didn't have the facilities to do it. Hogue said finding a facility would be a challenge, but there would probably be plenty of demand for the service.
"I think its something that would take off once he got started, with all the high-end guys flying into town," Hogue said. "It's just a matter of finding the facility to do it."
At Steamboat Springs Air-
port, Frank Cefaratti of Mountain View Car Wash has been providing detailing services for the past few years. Cefaratti said Benzing would be a valid competitor but that there are huge barriers to entry.
"It took a lot for me to get into this," Cefaratti said. "It's a huge ordeal. It would be a huge struggle."
Cefarratti, who has owned Mountain View Car Wash in Steamboat for a decade, said getting into airplane detailing required him to switch insurance carriers - his garage insurance policy is for $5 million - and clear obstacles with the city, which owns the airport, to become the designated detailer there.
"We are the ones doing it at this local airport," Cefaratti said. "That's the way it's going to be."