Sunday, September 9, 2007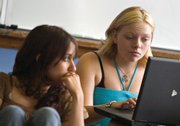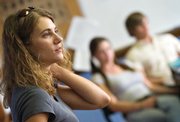 Requirements
Yampa Valley High School requires 24 credits to graduate with a diploma. The school runs on a quarter system with each student earning a minimum of six credits a year.
Students are required to meet five national standards and benchmarks to earn one-quarter credit. Those standards are available at www.mcrel.org. The Yampa Valley High School is an autonomous school, so it has its own graduation requirements and standards independent of the county's three public high schools.
The credit breakdown for graduation at Yampa Valley High School is: Language Arts (4 credits), Math (3), Science (3), Humanities (3), Health (0.5), Physical Education (0.5), Electives (10).
Students can participate in extracurricular activities such as athletics, music and drama through their home school districts in Steamboat, Hayden or South Routt.
Steamboat Springs — The 15 students enrolled in Yampa Valley High School enjoyed a sense of solitude last year on the third floor of the George P. Sauer Human Services Center on Seventh Street.
When Steamboat Springs School District officials announced in the spring that 400 Soda Creek Elementary School students would join the alternative school students on the small campus as a new school is built, many educators and parents wondered how the two schools would gel.
"It's not like they are axe murderers," said P.J. Zenewicz, one of the alternative school's two teachers. "We have some really bright kids who just didn't fit into the high school setting."
Karla Setter, who also teaches at the school, said students have had to make some compromises, such as losing the grassy field that now houses 13 mobile classrooms.
"We had an open, grassy field, and we had some places to run around, blow off steam, which are all gone," she said. "But we really are in our own world up here and don't have much contact with Soda Creek."
The county's alternative school entered its second year last week with a waiting list for the eight slots allotted to Steamboat students.
"It shows that this school is something the community has asked for and has supported," Setter said.
'A school of choice'
Yampa Valley High School, which started in 2006, is a collaborative school for South Routt, Hayden and Steamboat students. Area administrators, teachers and students devised and implemented a plan and policies for the alternative school. The high school has a cap on its enrollment, and all three Routt County school districts are allocated a certain number of slots for students who live within their boundaries.
Setter said the school continues to have openings for Hayden and Soroco students, despite the waiting list for Steamboat students.
"It's a school of choice, and kids are choosing to come here," Setter said.
"It's not a place where students are told where to go by administrators," she said. "They apply and interview : we are our own little school district. We are not part of the three school districts, except that their kids and funding come to us."
For Haven Thomas, the choice to come to Yampa Valley High School was clear. Either she enrolled in the alternative school, or she would have to continue through Steamboat Springs High School where Thomas said she was "miserable."
"I was having a lot of problems at my high school," said Thomas, 17, who enrolled last year as a junior.
"Last year, I gained a lot of credit in a short amount of time," she said. "I think had I been here all four years, I would have had a better high school experience."
Self-directed learning
Setter and Zenewicz said the school's 15 alternative students address learning in a much different way than their peers in other Routt County high schools.
"So we have what we call learning expeditions," she said. "They have a choice to do independent projects based on national standards and benchmarks as learning goals. They can apply those learning goals to any topic that is best for them. Also, at the same time, we have teacher-directed classes."
Thomas said she did expedition projects last year on Greece and Native American topics, and she built a hovercraft for a science class. Also last year, Zenewicz said two students did independent studies on the physics of skateboarding.
"It's using another vehicle to inspire learning," he said. "It's not about us. It's about them and about what they want their education to be."
Setter noted that students also take the Colorado Student Assessment Program tests, and traditional learning subjects, such as science, math and reading labs, are required courses.
"We make sure the kids get the basic skills they need to," she said.
Junior Robert Anderson, 16, said he chose the expedition projects last year, but he prefers the teacher-directed classes better. Anderson said that it is the ability to choose between the two learning methods that made the school appealing when he enrolled last year.
"I'm behind in my credits, so I'm trying to catch up so I can graduate with my class," said Anderson, who also has tried home schooling as a way to catch up on credits. "This is the only way I thought I could do it."
Misconceptions
Zenewicz said many people might not understand what an alternative school is or what type of student attends the optional high school.
"We have kids who definitely have some learning issues and bad habits that need to be fixed," he said. "But it isn't a dumping ground or a place that kids get sent. If you were in a classroom, you'd think these kids are easy."
Setter noted that kids who are unmotivated to work wouldn't fit in at the school, and that she hoped further funding and resources could expand the program to more students.
"Students tend to act out when they feel like they don't have any control over their life," said Setter, who hopes for additional special education and counseling resources.
"We have some kids that were doing a lot of skipping at their high schools, but then they just don't here because they feel more engaged in our small, little community," she said. "They really feel like they are part of something and that they matter."
Zenewicz and Setter, who both taught or student-taught at Steamboat Springs High School, said it would be a difficult transition back to a traditional school setting as an educator.
"It's amazing to have the flexibility of teaching what I want, when I want," he said. "And we hold kids directly accountable for themselves, creating independent thinkers. I think in the traditional public schools, they teach kids to think one kind of way."
Thomas said her second year at Yampa Valley High School is more structured than her first. However, only a few credits shy of graduation, Thomas noted she wished she could have spent all four high school years at the alternative school.
"I just think that this is much more of a relaxed environment, where you can preserve individual needs," she said.