Saturday, September 8, 2007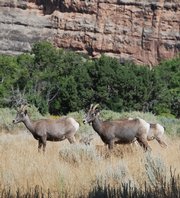 Tom Ross
Tom Ross' column appears in Steamboat Today. Contact him at 970-871-4205 or tross@SteamboatToday.com.
Find more columns by Tom here.
Eight gray ghosts slipped silently through the sage and blooming rabbit brush, heading directly for us. They made not a sound, but gazed at us unblinking. The desert bighorns made their approach with the wind in their favor, and the dogs were oblivious.
Before this year, I had never seen desert bighorn sheep in the wild. The only sighting had been at the Arizona-Sonora Desert Museum in Tucson. It was enjoyable, but hardly counted as a lifetime achievement.
So, it was a thrill, in March, to watch as a curious desert bighorn ram skirted the edge of our camp in the Grand Canyon. We spied more of the elusive sheep, some alive, some not, as we continued along our 284-mile float. But I never dreamed I would encounter five ewes and three lambs in an improved campground in Dinosaur National Monument.
When you get down to it, desert bighorns don't appear all that different from Rocky Mountain bighorn sheep, especially if your eye is as untrained as mine. I've seen the latter just off the shoulder of Interstate 70 near Georgetown.
So, what's the big deal? Why do we get such a big charge out of sighting a rare mammal in its natural environment? Why does the same animal enclosed in a Tucson zoo result in a ho-hum experience?
For myself, in an era when habitat for large mammals is becoming fragmented, it's especially rewarding to see evidence of a species making a comeback. Historically, desert bighorn populations have been ravaged by exposure to domestic livestock diseases and market hunting. The fouling of scarce water holes, particularly in true desert regions like those in Arizona, has made survival even tougher.
A variety of state and federal agencies have been carrying out a determined effort to establish populations of desert bighorns on the Colorado Plateau.
The Colorado Division of Wildlife first released 11 desert bighorns into the Colorado National Monument near Grand Junction in 1979. Throughout the succeeding 20 years, 215 desert sheep acquired from neighboring states were released in Western Colorado. The DOW saw the herd peak at almost 500 animals in 2001, then decline by almost half by 2003.
The DOW has concluded that in some cases, mountain lion predation inhibits the establishment of self-sustaining populations of desert bighorns.
Government agencies aren't going it alone. Citizen-based organizations like The Fraternity of the Desert Bighorn and the Arizona Desert bighorn Sheep Society advocate and raise funds for the animals.
It was blazing hot in Echo Park during the Labor Day weekend. Very few animals and birds were still stirring by late morning. Our tent site afforded us some relief by mid-afternoon. It was tucked up against a sheer sandstone wall. I hesitate to guess whether it was 175 feet tall, or 275 feet tall. With the sun already sneaking toward the south on its annual journey beyond the autumnal equinox, it already was retreating behind the end of the north/south running cliff by 2 p.m. We astutely moved our camp chairs into the blessed shade and watched the shadow grow.
The desert bighorns also took their cue from the retreat of the sun behind the wall. It was time to leave their refuge in Pool Creek Canyon and pick their way through the campground on their way to the Green River.
As the mature ewes goaded the three lambs past our tent, we felt like we'd been given a gift.