Saturday, September 8, 2007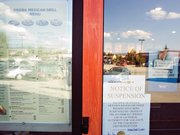 Steamboat Springs — Qdoba Mexican Grill patrons craving a Corona with their giant stuffed burritos had to settle for Dr Pepper on Friday, as the business served a one-day suspension for failing an alcohol compliance check in June.
The Steamboat Springs City Council, acting as the city's Liquor License Authority, suspended the liquor licenses of Qdoba and Mother's Deli in Ski Time Square on Thursday, citing violations during a June 15 alcohol compliance check by the Steamboat Springs Police Department.
Qdoba's liquor license was suspended for five days. The restaurant served a one-day suspension Friday, because four of the suspension days are being held in abeyance, which means the business will serve those four days if it fails another compliance check in the next year. The June 15 compliance check was the first time Qdoba had been cited for selling alcohol to a minor.
Mother's Deli, which has faced three separate liquor code violations in the past year, had its liquor license suspended for 30 days, with 15 days to be served and 15 days held in abeyance. An additional 18-day suspension was tacked onto Thursday's suspension from a previous offense.
Mother's Deli also began serving its suspension Friday, and will not be allowed to sell alcohol again until Oct. 9.
Mother's Deli was cited by the state in July 2006 for allowing alcohol to leave its premises. In September 2006, Mother's was cited by the city for serving and allowing a visibly intoxicated person to loiter at the business.
Todd Barton, who owns Mother's Deli but lives in Littleton, did not attend Thursday's hearing. However, Barton said he plans to "revise and revamp the current management team at Mother's Deli" in an attempt to ensure the bar is complying with the state liquor code.
"I'm extremely upset about it," Barton said Friday. "There's no excuse for the not one, not two but three alcohol offenses we've had."
Barton said he was "deeply sorry" to the community for the violations, and that he is exploring his options. It does not look like the business will remain open, he added.
City Council member Towny Anderson said he was interested in revisiting a conversation about revoking liquor licenses after a business accumulates three or more violations in one calendar year.
"My question is where is the threshold? When do we revoke a license, how egregious do they have to be?" he said. "In baseball, it's three strikes and you're out."
City Council President Susan Dellinger said the council could take up the matter at a future meeting but that it was too late to discuss revoking Mother's Deli's liquor license because Barton already had accepted a suspension offer from the city.