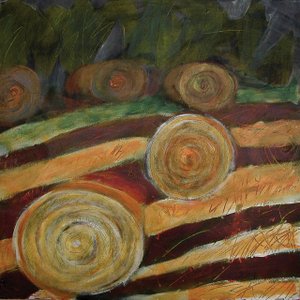 Friday, September 7, 2007
Steamboat Springs — Laura Wait has an unusual interest in hay bales.
Partially for their geometry and partially for the way they show how we can impact the world around us, hay bales are the focus of Wait's part of the Artists' Gallery of Steamboat's harvest-themed new exhibit, "Vernacular."
The exhibit, which also features ceramics by Bill Sanders and photography by Corey Kopischke, opens today with a free reception from 5 to 8 p.m. The show runs through Oct. 4.
"We chose the name 'Vernacular' because it has to do with everyday language," Wait said. "We wanted a name that wasn't just descriptive."
For Wait, fields and landscapes take on a skewed perspective, where the rows of crops turn into near-spiraling streaks of sunburst gold and day-glo green. It's an abstract take, and it takes into account the unnatural parts of what we see everyday.
"I get a lot more excited about man's effect on nature, I think, than just pretty landscapes," Wait said. The result is a layered, textured piece that considers a hay bale's spiral symbolically: as food, regrowth and the universe in general all rolled into one.
Bill Sanders interpreted the theme of a slightly shifted normality to make a series of ceramic boxes coated with an ancient Japanese "Shino" glaze. Sanders has been making pottery for 28 years, but the boxes are a break from what he normally does - though there are a few of his traditional glazed teapots interspersed in the display for balance.
"I didn't want to make a pure sculpture," he said. "I wanted to make a sculpture you could use." He started working with the idea of a round hay bale and a square box, and found the two shapes are functionally about the same thing.
On the photography end, Kopischke said his several of his photos include the rich colors and geographic landmarks town residents have gotten used to, but with a new twist.
"A lot of them are traditional iconic Steamboat landscapes, but they're not in traditional form," he said. "Colors and dramatic light are what I like, and that's what I try to capture."
The Artists' Gallery is open 11 a.m. to 9 p.m. Monday through Saturday, and 11 a.m. to 7 p.m. Sunday.