Thursday, September 6, 2007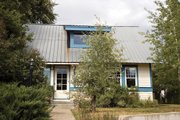 Steamboat Springs — While Steamboat's historic preservation debate rages on, the issue is evolving into a conversation about how to confront the issue in a Steamboat-specific way.
The Steamboat Springs City Council considered an ordinance Tuesday that would extend and modify an emergency moratorium enacted Aug. 21 that bans demolitions and exterior alterations of historic structures in the city.
Councilman Steve Ivancie, though in favor of revising the city's historic preservation ordinance, said he is against extending the moratorium while those revisions occur and has been annoyed by calls for the city to emulate the historic preservation ordinances of other cities, such as Charleston, S.C.
"We are not Charleston, S.C.," Ivancie told a crowd Tuesday night at Centennial Hall. "This is Steamboat, and we will decide what we want to be, not some historic committee back East. If you want to move back there, you have my permission."
The comment epitomized the divisive and emotional debate embroiling the city since the emergency moratorium was passed. More than two hours of comments by citizens and council members at Tuesday's meeting proved there is little common ground between two competing interests: the rights of private property owners and the preservation of historic structures for public benefit. But most who spoke were, at least, appreciative that a discussion is now taking place.
Troubled by a reported increase in demolition permit applications for old homes, City Council members voted, 4-2, on Aug. 21 to impose the emergency moratorium, which prevents the acceptance of applications "for building permits that could result in the alteration of an exterior aspect of, or demolition permits for, any historic structure." Historic structures are defined by the ordinance as any building more than 50 years old.
The lack of a comprehensive public discussion prior to that decision has fueled some of the anger of property owners in older neighborhoods such as Brooklyn, Fairview and Old Town. Evie Freet, who lives with her husband Larry in an old home on The Boulevard in Old Town, said she has felt left out and overlooked.
"I encourage you to put the community discussion first," Freet told the City Council.
Timeout
Council President Susan Dellinger, Councilwoman Karen Post and Councilmen Ken Brenner and Towny Anderson voted in favor of the emergency moratorium and say it was simply meant as a "timeout" to allow for the type of public input people are calling for. At Tuesday's meeting, the council considered the first reading of a "regular" moratorium ordinance that is intended to narrow the emergency moratorium's scope, allowing most projects to move forward, while stalling major exterior renovations to, and demolitions of, historic structures while the city's historic preservation ordinance is revisited.
Dellinger said the current ordinance - one of mandatory review, but voluntary compliance - was created without sufficient public input, and that the moratorium is needed to protect the city's historic resources while the issue is revisited.
"It takes a community to raise an ordinance, and I don't know if we used the community the first time around," Dellinger said. "I'm OK with the timeout."
Dellinger said using the moratorium's ability to force a dialogue on the issue of historic preservation outweighed the infringement on property owners' rights. But others believe the moratorium is unnecessary.
"We still haven't done enough public outreach, even though we've narrowed the scope," said Councilman Loui Antonucci. "My stance on this is that I would not like to see this moratorium go forward. We have an ordinance that we can live with until we rewrite the ordinance."
Councilman Paul Strong voted against the emergency moratorium and said it was "an immediately divisive action" with "big unintended consequences." Although firmly against the emergency moratorium, Strong said he was on the fence when it came to the overall issue.
Mine or ours
Many Old Town property owners were worried about the uncertainty the moratorium has created, and the effect it may have on their property values. Some worried real estate prices, currently on the rise in Steamboat, could falter by the time the issue is resolved. Still, others said they didn't sign up to be the "curators" of their homes.
"When you talk about 'our' asset, you're talking about my asset, and that hurts," said Old Town resident Steve Lewis.
Noreen Moore of Partners in Preservation responded to comments that the residents of Old Town have done a fine job preserving the character of the neighborhood and said the moratorium was targeted more toward outsiders.
"What the moratorium is about, is all the people who come in and don't share our values," Moore said.
In the end, a divided council voted, 4-3, to move the moratorium ordinance forward to a second reading no earlier than Sept. 18. If approved at that meeting, the moratorium would take affect Sept. 23. The moratorium's language tightens the definition of a historic structure to one that is not only more than 50 years old, but also eligible for listing on the Routt County Register of Historic Places.
"We're not trying to prevent people from changing homes that are old but not historically significant," said Pam Duckworth of Partners in Preservation, which provided many suggestions for the moratorium's revisions. "The purpose of what we're doing is to prevent the loss of a number of historic buildings while we have this discussion."
Dellinger, Post, Brenner and Anderson voted to move the moratorium forward to its second reading, while Strong, Antonucci and Councilman Steve Ivancie voted against it.