Thursday, September 6, 2007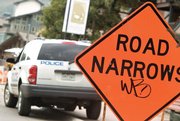 Steamboat Springs — What began as a slow Tuesday night for Alpine Taxi driver Rod McCormack ended with two men facing felony charges on suspicion of tagging signs and windows in the Ski Time Square area.
"I noticed this guy come walking around Wired, walking up to a couple of windows and construction signs : and start tagging them," McCormack said. "A couple of times he looked right at me. He was so brazen about it."
McCormack, who works overnight shifts for Alpine Taxi, called Steamboat Springs police to report the vandalism at about 1:30 a.m. Wednesday.
Police arrested Michael Edward Benninghoven, 29, of Steamboat Springs and Michael Patrick Zapke, 26, also of Steamboat, near Village Drive and Walton Creek Road on suspicion of felony criminal mischief. Benninghoven also faces charges of driving under the influence of alcohol and driving with a revoked license.
Steamboat Springs Police Capt. Joel Rae commended McCormack's actions. Rae said it's often difficult to make arrests involving graffiti or tagging.
"If it weren't for him, we probably wouldn't have gotten these guys," Rae said.
Rae said Benninghoven and Zapke apparently used a permanent blue, broad-tipped paint pen to deface several city and construction signs with the initials "WB" or "WBZ," "3-on-3," and what Rae described as "swirly letters."
The graffiti caused more than $500 worth of damage, he said.
McCormack, who recently moved to Steamboat from Denver, said such damage is unacceptable.
"I look at it like this - this is my town now, so if I see somebody doing this here, I'm going to call the cops because I don't want to see that," he said. "This is a beautiful town, and we should keep it that way. Senseless tagging is just that - senseless. There's no need for it."
Rae said he was appreciative of McCormack's quick reaction and ability to discreetly follow Benninghoven and Zapke until officers arrived.
"Good for him for being a good citizen," he said.
Officers have taken dozens of graffiti and vandalism reports this summer, from Ski Time Square to Howelsen Hill and areas along the Yampa River Core Trail.
"More and more of it is popping up," Rae said. "There definitely seems to be a lot of it this summer."
Benninghoven and Zapke appeared in Routt County Court on Wednesday for advisement. Benninghoven's bond was set at $10,000. He is scheduled to appear in court at 1 p.m. Sept. 12. Zapke's bond was set at $5,000. He is scheduled to appear in court at 2 p.m. Sept. 26.
Attempts to contact Benninghoven and Zapke about the incident were unsuccessful Wednesday.