Wednesday, September 5, 2007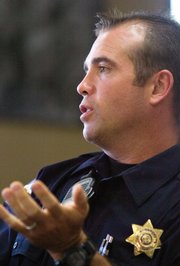 Steamboat Springs — Deputy Kurtis Luster got a big raise Tuesday.
The Routt County Board of Commissioners unanimously approved a request from Sheriff Gary Wall to start Luster at step six of the department's pay grade. Luster rejoined the Routt County Sheriff's Office on Aug. 19, after resigning from the Steamboat Springs Police Department. He previously worked for the Sheriff's Office from May 2000 to October 2005. Luster had reached step six as a patrol deputy with the Sheriff's Office, where he temporarily worked as a sergeant.
County Manager Tom Sullivan previously approved a request to start Luster at step three, but a bump all the way to step six required commissioners' approval. The commissioners' approval effectively raised Luster's annual salary to $50,003 from the step three salary of $45,510.
Commissioner Nancy Stahoviak noted that the county has approved similar requests in the past. Wall said starting Luster several steps above the entry-level salary was appropriate because of Luster's experience.
"I'm just as pleased as I can be to have him back," Wall said.
Luster, who lives in North Routt County, said he decided to come back to the Sheriff's Office because most of his experience is in rural law enforcement.
"It's a matter of comfort and compatibility," Luster said.
With Luster's hire and the hiring of Dennis Luark, who lives off Routt County Road 1 in South Routt County, Wall said his office's patrol unit is fully staffed and resides in all areas of the county. With all deputies on call 24 hours a day, Wall said it is important to have them living throughout the county.
"We have full county coverage now," Wall said.
The department still doesn't have deputies on duty 24 hours a day, however. Wall said that would require adding a position or two to the department, a move that would have to be approved by county commissioners.
Although the patrol unit is fully staffed, there are two openings at the Routt County Jail, Wall said. Former jailer Mitchell Bachmann, fired last week for allegedly violating the department's conduct policy, was scheduled to appeal his termination to Wall at 4 p.m. Tuesday.
Wall, Luster and Undersheriff David Bustos also discussed with the commissioners Tuesday the possibility of acquiring two portable winches for patrol vehicles. Wall said the winches could be used for everything from minor assistances such as towing out stuck motorists to emergency uses such as lowering personnel and equipment down a cliff to an accident or injured party. The winches would cost $1,675 each, according to a quote from Truck Stop-Accessories & Auto Glass.
The Sheriff's Office hoped to have the expenditures approved, but commissioners tabled the request and asked Wall to provide more information. Stahoviak noted that purchases of more than $500 require at least three quotes.
The commissioners also had concerns regarding the liability associated with towing vehicles and the possibility that the Sheriff's Office would be taking business away from local tow-truck outfits.
"The liability issue needs a little work," Commissioner Diane Mitsch Bush said.
She was not satisfied by Wall's assertion that deputies would use common sense and their judgment in using the winches and wanted to see a formal policy.