Monday, September 3, 2007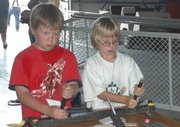 Steamboat Springs — Not far from the antique planes and classic cars on display for the third annual Wild West Air Fest on Sunday, potential future pilots turned their eyes to the sky.
The Wings Over the Rockies Air and Space Museum visited Steamboat Springs to target the younger crowd with flight simulators, toy planes and lessons about the ups and downs of flying. This was the first year at the Air Fest for the Denver museum, which is located at historic Lowry Air Force Base.
Activities for children ranged from simple arts and crafts - candy airplanes made of Smarties, Life Savers and chewing gum - to high-technology exhibits such as computers that emulate the many calculations needed for a flight plan.
Darci Wert, director of education for the museum, said each activity is meant to teach children something basic about how planes fly. So with candy airplanes, anyone who remembers that the body of a plane is called a fuselage gets to eat the fuselage.
At one display, Tristan Smith, 11, and Trevor Smith, 8, tried to guess how different plastic airplanes would land. With the planes sliding down a string toward them, the boys set up Starburst candies where they thought the plane would hit the table. If they guessed right, the sweets were theirs.
"The candy definitely does increase the attraction," Wert said.
The point is more to leave a good impression about aviation than to teach its mechanics, Wert said.
"The bigger picture is that they'll go home from the air show knowing they had fun there," she said.
Event organizer and volunteer pilot Mike Forney said the museum's setup was one of the most unique exhibits at this year's Air Fest - and one of the most popular with children.
"They've experienced aviation firsthand, and it's been a wonder for them," he said.